Sweden
The summary in this section was provided by, Maria Olsson, Swedish Energy Agency (SEA)
Ocean Energy Policy
National Strategy and Targets
The Swedish energy policy is based on the same foundations as energy cooperation in the European Union (EU) and seeks to reconcile environmental sustainability, competitiveness and security of supply. The vision is that, by 2050, Sweden has a sustainable and resource efficient supply of energy and no net emissions of greenhouse gases in the atmosphere.
In order to realize the vision and implement the EU Renewables Directive, the following national targets for renewable energy and efficient use of energy in Sweden by 2020 have been set:
The share of renewable energy in 2020 should be at least 50 percent of total energy use.

The share of renewable energy in the transport sector should also be at least 10 percent.

A further goal is 20 percent more efficient energy use in 2020, expressed as a reduction in energy

intensity of 20 percent between the years 2008-2020.
The forecast for Sweden in 2013 is that by 2020 the first two goals will be achieved with margin, while the last goal concerning efficient energy use is more uncertain.
Main Support Initiatives
Fundamental to the long-term Swedish energy policy are general economic policy instruments such as carbon tax, international emissions trading and tradable certificates for renewable electricity. From the perspective of ocean energy technology development, the renewable electricity certificate system (a tradable green certificate system) is the most relevant policy instrument.
The electricity certificate system is a market-based support system for cost-effective expansion of electricity production from renewable sources. By design, the system does not specifically target a particular renewable electricity conversion technology, i.e. is technology neutral. Electricity certificates are issued to those who produce electricity from one or more renewable energy sources, or from peat, and who have had their production plants approved by the Swedish Energy Agency. To date, certificates have been issued to producers of electricity from biofuels and peat, wind power, hydro power and solar electricity.
While wave energy is one of the renewable energy sources for which producers would be eligible for certificates, none have been issued so far.

In 2011, Sweden and Norway entered into an agreement to form a joint electricity certificate market, which has been in operation since the beginning of 2012. Together with Norway, annual production from renewable sources, in 2020, shall have increased by a further 13,2 TWh compared to production in 2012.
The main public funding mechanism for research, business and technology development and technology demonstration are Swedish governmental agencies tasked to support academic and private sector R&D in the various stages of innovation. There is currently no funding body with a dedicated funding scheme that targets ocean energy. Nonetheless, there are a number of governmental agencies from which researchers and developers can apply for funding.
The Swedish Research Council, (www.vr.se), which, among other things, is tasked to fund fundamental research and expensive equipment for research purposes within a large number of topic areas.

The Swedish Energy Agency, (www.energimyndigheten.se), is the Swedish agency responsible for

facilitating a sustainable energy system in Sweden. As such, the agency funds research, business- and

technology development and technology demonstration which is relevant for the sustainability of the

energy system and the sustainability for the energy industry sectors.

The Swedish Governmental Agency for Innovation Systems (VINNOVA), (www.vinnova.se), supports

business- and technology development. VINNOVA also acts as contact point for the European

Community FP7 for research and development.
In addition, regional authorities are able to grant funding to varying extents.
National Sea Test Facilities
At the moment there are no national sea test facilities in Sweden. However, there are two research sites in Sweden, Lysekil wave power research site and Söderfors marine currents research site. Both sites are operated by Uppsala University. A third site, Sotenäs wave power demonstration facility, is under development and the project is led by Seabased Industry AB in cooperation with Fortum. Interest has been expressed to expand the Lysekil wave power research site and thus allow access to other universities and developers from Sweden and Europe. Additionally there is a project that has been carried out during 2013, in which the research institute SP has been financed by VINNOVA to investigate the possibilities of establishing a national sea test facility.
Licensing and Environmental Impact Assessment
Claims increase to use the sea around Sweden, for example, for fishing, shipping, energy production, energy distribution, communication, and tourism.
The Swedish Agency for Marine and Water Management is therefore working on a new system for marine spatial planning. This will determine how the utilities and space of the sea should be divided and provide guidance to authorities and municipalities when considering claims for the use of the areas. A law concerning the marine spatial planning is expected to come into force on 1 April 2014.
In order to establish test sites for research and development and sites or parks for technology demonstration in Swedish marine environments, permits must be obtained from the local County Administration Board.
The permits are granted after an extensive environmental impact assessment court procedure.
Relevant Documents Released
Research & Development
Key R&D Institutions and Relevant R&D Projects

Technical Research Institute of Sweden
SP applies its internationally leading competence to the development and evaluation of technologies, material, products, and processes to meet its customers' needs and provide an effective link between research and commercialization. SP consists of several technical departments in which SP Structural and Solid Mechanics is carrying out research within the ocean energy area. Some of the projects that SP is involved in are:
Offshore Väst, which aim is to establish and support the offshore sector in Sweden through a setup o

f projects and strategies. Offshore Väst is owned by a consortium of dedicated companies, universities,

institutes and authorities. SP is the project manager and coordinator for the work package concerning

offshore energy production from wind, wave and current.


Pilot study – Test site for marine applications. This project was carried out during 2013 and investigated

the possibilities of establishing a national sea test bed. It included topics like market research,

geographical position, metrology study, consent process and grid connection. SP was the project

manager and coordinator.


Buoy to grid aims at supporting the ocean energy industry with applied research focusing on electrical

systems, reliability and marine safety. SP is the project manager and coordinator.


Strategic Innovation Agenda for Marine Electricity Production. This will start in 2014 and SP will

participate in the project group that will put together a combined agenda for wind and ocean energy.


During 2014, SP will also be involved in a project assigned by the Swedish Energy Agency, which

includes a mapping of stakeholders and actors in the field and their visions. This will lead preliminary to

a start-up of a national ocean energy programme.

Uppsala University
The Division of Electricity at Uppsala University conducts research on wave energy technology and hydrokinetic energy conversion from tidal currents and rivers. Wave energy activities are focused on a full system approach including system modelling and control, generator and buoy design and model development. Marine current research projects include resource potential studies as well as system modelling from water currents, via turbine and generator, to grid. In order to facilitate field testing and verification of research results, two research sites are operated by Uppsala University; the Lysekil wave power research site, which has been in operation since 2006, and the Söderfors marine currents research site. At the Lysekil wave power research site wave climate can be monitored and environmental impact studies are performed. The environmental impact studies include both the impact of the WEC (wave energy converter) and how biofouling will affect the buoy's ability to extract energy. The site has permission for several WECs that are operated for research purposes. The technology is based on wave point absorber with linear generator. The site is currently not grid connected.
The Söderfors marine currents research site is located in Dalälven River. The site was chosen as it seemed suitable for experiments at low water velocities. Research is carried out with regards to both the resource and the technology. The resource is studied through resource assessments and velocity measurements with Acoustic Doppler Current Profilers (ADCPs). The technology that is being tested on the site consists of a fixed pitch vertical axis turbine connected to a directly driven permanent generator.
Uppsala University has also been involved in project WESA in collaboration with Ålands Teknikkluster and Univeristy of Åbo (Turku) in which a wave power research site was established at Hammarudda (Finland).
The purpose was to investigate how seasonal ice interacts with surface floating buoys. The project was finalized in the end of 2013.
Uppsala University is additionally the coordinator of the project Strategic Innovation Agenda for Marine Electricity Production mentioned previously.
Chalmers University of Technology
At Chalmers University of Technology ocean energy research projects on mooring design, power transmission and mooring fatigue started up in 2011. The research is being carried out at the departments of Shipping and Marine Technology and Energy and Environment in collaboration with the Ocean Energy Centre (OEC) which was also initiated in 2011.
OEC is an innovation platform for collaboration, cooperation and communication among ocean energy stakeholders hosted by the department of Shipping and Marine Technology at Chalmers University of Technology. OEC is a partnership between the Swedish development companies Minesto, Ocean Harvesting Technologies, Vigor Wave Energy and Waves4Power, the technical research institutes SP and SSPA, Chalmers University of Technology and the Region of Västra Götaland, which is the main financial partner.
Technology demonstration
Major Industry Players
Seabased Industry AB is a spin-off company from the wave energy research made at Uppsala University. It was founded in 2001 and covers industrial research and development as well as production, marketing and environmental studies. Together with the power company Fortum they are now building a commercial wave energy plant outside Sotenäs (see figure 1).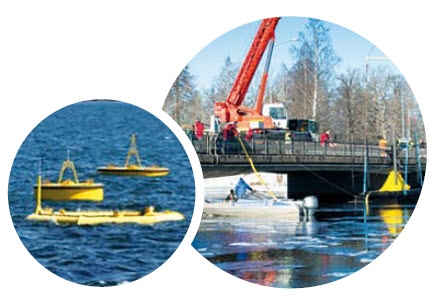 Fig. 1: Wave power buoys outside




Lysekil

Fig 2. The energy converter being deployed in Dalälven river on the 7th of March 2013
Fortum is also involved in ocean energy activities outside of Sweden. Together with DCNS and AW-Energy and with the support of La Région Bretagne they will develop a joint 1.5 MW wave power demonstration project in France using the WaveRoller™ technology.
E.ON and Vattenfall are two other power companies that are involved in ocean energy activities, but, for the moment, primarily outside of Sweden, although Vattenfall has partly financed some of Uppsala University´s work (CFE II). Vattenfall is cooperating with Pelamis Wave Power to develop a wave power farm at the coast of Shetland. E.ON has also worked with Pelamis Wave Power and has helped developing their second generation Pelamis machine.
Among the smaller but still progressing industry players that have received funding from the Swedish Energy Agency, CorPower Ocean AB, Minesto and Ocean Harvesting Technologies can be mentioned. CorPower Ocean AB has developed an advanced compact high-efficiency Wave Energy Converter (WEC), inspired by the pumping principles of the human heart. CorPower has initiated cooperation with the Spanish power company Iberdrola that will be involved in developing an offshore farm later on. Minesto develops tidal and ocean current power plants called Deep Green. Deep Green is currently undergoing long-term ocean trials in quarter scale in Strangford Lough, Northern Ireland.
Ocean Harvesting Technologies (OHT) offers an ingenious power take-off for wave power. A mechanical gearbox and a gravity accumulator convert the highly intermittent and irregular power captured from the wave motion into a smooth speed and torque to the generator. Next phase is to design a small scale hub system. E.ON has supported OHT with money and expertise.
Operational Ocean Energy Projects
Many ocean energy projects are still in the early phase of development. The only projects that are executed in Sweden and operational, although not commercialized, are the Lysekil wave power project and the Söderfors marine current project mentioned previously. Both are operated by Uppsala University.
The Lysekil wave power project installed the first wave energy converter in 2006. Since then the number has increased to ten. The installed capacity is 230 kW but with an expected capacity of 350-400 kW later on.
For the Söderfors marine current project the energy converter was deployed in Dalälven on 7 March 2013. The turbine is rated at 7.5 kW at a water speed of 1.3 m/s, and it is designed to operate in the range of velocities from 0.5 to 2 m/s.
Planned Deployments
The Sotenäs project was initiated in November 2011 and is planned to become one of the largest wave energy plants in the world. The project is in two stages, with a first 1 MW stage to be commissioned in the end of 2014. The second, 9 MW, stage will be launched subsequent to the evaluation of the first 1 MW, probably later during 2014. The wave power plant, when completed, will thus have a total installed power of 10 MW. The Sotenäs project is funded by the Swedish Energy Authority, the power company Fortum and by Seabased Industry AB.