33rd EXCO MEETING, 14 and 15 NOVEMBER 2017
Brief review of the 33rd Executive Committee Meeting held in Chennai, India, on 14 and 15 November 2017.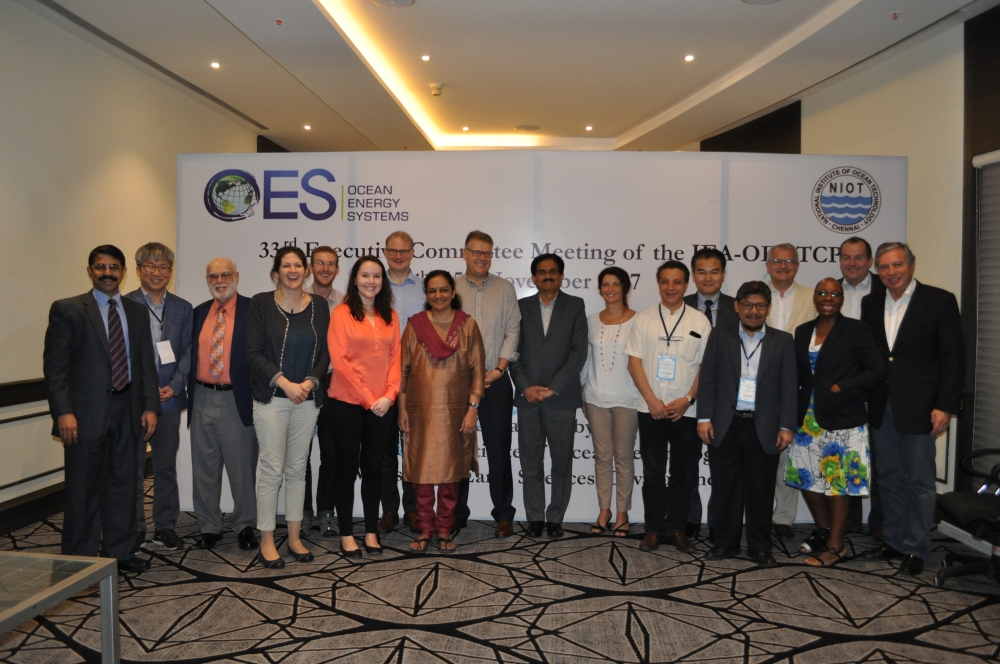 The Executive Committee (ExCo) of the Technology Collaboration Programme on Ocean Energy Systems (OES), within the International Energy Agency (IEA), announces the outcomes of its 33rd meeting, held in India, on 14 – 15 November 2017, with 14 representatives from the organisation member states.
OES delegates participated in the inaugural session of the Indian wave powered navigational buoy and OTEC facility, during the workshop 'Harnessing Energy from the Oceans - A Global Scenario' organised by NIOT, on the 13th November, with the presence of the State Secretary of the Ministry of Earth Sciences and the Director of NIOT.
Comprehensive overviews of international activities and achievements on ocean energy were shared during the ExCo meeting, and are presented below.
Major outcomes of the OES projects:
• Ocean Energy in Islands and Remote Coastal Areas, a workshop report, looks at the opportunities and barriers for ocean energy in islands and remote coastal areas of the Asian region from the perspectives of various stakeholders;
• New world map with OTEC prepared under Task 11;
• Tethys Knowledge Database, with information on environmental issues of marine energy projects;
• Interactive web-based GIS mapping application with updated information about projects at sea;
• Two new tasks are being initiated by the OES group: Stage Gate Metrics for Ocean Energy (Task 12) and Numerical Validation for Tidal Energy (Task 13).