32ND EXCO MEETING, 10 ? 11 APRIL 2017
Brief review of the 32nd Executive Committee Meeting held in Monaco, on 10 ? 11 April 2017.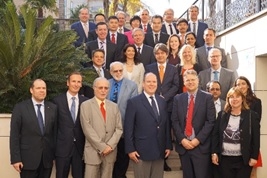 The Executive Committee (ExCo) of the Technology Collaboration Programme on Ocean Energy Systems (OES), within the International Energy Agency (IEA), announces the outcomes of its 32nd meeting, held in Monaco, on 10 – 11 April 2017, in the presence of HSH Prince Albert II of Monaco and 20 representatives from the organisation member states.
On the occasion of this event headed by the Monegasque National Committee of the World Energy Council, in partnership with the Government and the Prince Albert II of Monaco Foundation, Mr Henry Jeffrey, Chairman of the OES, presented the Ocean Energy Systems 2016 Annual Report to the Sovereign.
Comprehensive overviews of international activities and achievements on ocean energy were shared during the ExCo meeting, and are presented below.
Major outcomes of the OES projects:

• Fact sheets on Consenting Processes for Ocean Energy are now available on the website;
• International Vision for Ocean Energy released this year;
• Task 10 on Numerical Validation Codes for Wave Energy Converters – a new workshop will be organised during the EWTEC in August this year;
• A world map with OTEC demonstration projects has been prepared under Task 11 and will be soon available on the website;
• The Tethys Knowledge Database is continuously updated, with hundreds of journal articles, technical reports, presentations and research studies on environmental issues of marine energy projects;
• In the Interactive web-based GIS mapping application, updated information about projects at sea can be found;
• US Department of Energy Instrumentation and Sensor Database promoted by OES;
• Ocean Energy in Insular Conditions – a new report will be soon published with results of the workshop looking at the opportunities and barriers to local adoption of ocean renewable energy in islands and remote coastal areas of the Asian region from the perspectives of various stakeholders and the possible solutions to address the challenges.
AUSTRALIA observer - Australia's long coastline is a massive potential source of ocean energy. A new industry body has recently been formed consisting of developers and energy companies. There are a number of developers active in wave energy: Bio Power Systems is progressing with the development of the bioWAVE pilot and testing is planned for 2017. The company has also developed its PTO module as a standardised self-contained system, suitable for use by other wave energy devices. Bombora Wave Power is developing their wave energy prototype. Carnegie Clean Energy has plans for a large scale project in Albany, on the southern coast of Western Australia. Wave Swell Energy is a new Australian company developing an innovative wave energy technology. The construction of the concrete structure and turbine manufactured are expected to occur in 2017. The CEO of this company attended the 32nd ExCo OES meeting as Observer.
CHILE observer - Chile has a tremendous potential for marine energy, especially tidal and wave energy. MERIC (Marine Energy Research and Innovation Centre), inaugurated in June last year, is building high level expertise in this field. This is an initiative from DCNS and ENEL Group, in partnership with Chilean academic institutions and with support from the Chilean economic development agency CORFO, taking an active role on marine energy development in the country. The CEO of MERIC attended the 32nd ExCo OES meeting as Observer.