SUPPORTING POLICIES FOR OCEAN ENERGY

Ireland remains open for business and is actively committed to harnessing its abundant wave, tidal and offshore wind energy resources while developing an indigenous ocean energy industry in the process. The publication of the Offshore Renewable Energy Development Plan in 2014, and its ongoing implementation through the Offshore Renewable Energy Steering Group, has had the benefit of facilitating a genuinely collaborative environment in this area. This plan was reviewed in 2017 by relevant stakeholders at government and industry level to ascertain progress on actions; to ensure continued focus on appropriate priority areas and to realign the plan with any changes in political or technical landscapes.
The initial outcome of the review suggests that all relevant Agencies and Government Departments within Ireland remain committed to supporting this burgeoning sector and offering one single gateway for information as well as access to particular supports for the development of the ocean energy industry in Ireland. The importance of supporting technology developers while also investing in academic research has been well-recognised, and the past year has seen tangible progress in both areas with some flagship projects already underway.

NATIONAL STRATEGY
THE OFFSHORE RENEWABLE ENERGY DEVELOPMENT PLAN (OREDP)
In 2014 the Department of Communications, Energy and Natural Resources (DCENR) published the Offshore Renewable Energy Development Plan (OREDP) (http://www.dcenr.gov.ie/energy/en-ie/Renewable-Energy/Pages/OREDPLanding-Page.aspx). The OREDP highlights the potential opportunities for the country in relation to marine energy at low, medium and high levels of development, as derived from the findings of the Strategic Environmental Assessment of the plan carried out prior to publication. The OREDP, as a policy document, sets out the key principles, specific actions and enablers needed to deliver upon Ireland's significant potential in this area. Accordingly, the OREDP is seen as providing a framework for the development of this sector. The Plan is divided into two parts. The first part deals with the opportunities, policy context and next steps, including 10 key enabling actions for the development of the sector. The second part focuses on the Strategic Environmental and Appropriate Assessment of the Plan.
The implementation of the OREDP is led by the Department of Communications Climate Action and Environmen (DCCAE) and the Offshore Renewable Energy Steering Group (ORESG) is actively overseeing its implementation. The Steering Group consists of the main Government departments and agencies with roles and responsibilities that relate to energy and the marine environment, developers and broader interest and user groups when necessary.
The work of the ORESG, and hence the implementation of the OREDP, is organised according to three work-streams: Environment, Infrastructure and Job Creation. The Job Creation working group has responsibility across several actions, including identifying additional exchequer support requirements, supply chain development and communicating the message that 'Ireland is Open for Business'. Under the Environment work-stream the Group ensures the needs of the marine energy industry are reflected in the on-going reform of the foreshore and marine consenting process. The actions deriving from the SEA and AA of the OREDP will also be taken forward under this work-stream to ensure that future marine energy development takes place in an environmentally sustainable manner. The Infrastructure working group concentrates on supporting and delivering objectives of other policies such as the National Ports Policy and Grid 25 so as to expedite integrated infrastructure development which will facilitate the offshore renewable energy sector. This plan was reviewed in 2017 by relevant stakeholders at government and industry level to ascertain progress on actions; to ensure continued focus on appropriate priority areas and to realign the plan with any changes in political or technical landscapes. The review of the OREDP was subject to a full public consultation in November/December 2017. The final report of the review is not yet published, but it is anticipated in summer 2018. Initial indications from the review process are that currently the OREDP is progressing well but that in some areas additional focus is required.

IRELAND'S TRANSITION TO A LOW CARBON ENERGY FUTURE 2015 - 2030
The White Paper 'Ireland's Transition to a Low Carbon Energy Future 2015-2030', published by DCENR in 2015, is a complete update on Ireland's wider energy policy. This paper sets out a framework to guide policy and the actions that Government intends to take in the energy sector from now up to 2030, while taking European and International climate change objectives and agreements, as well as Irish social, economic and employment priorities, into account. The White Paper anticipates that ocean energy will play a part in Ireland's energy transition in the medium to long term and reiterates the OREDP's status as the guiding framework for developing the sector.


REGULATORY FRAMEWORK
Currently, proposed ocean energy developments require a Foreshore Licence (for non-exclusive and temporary uses) and/or a Foreshore Lease (exclusive and permanent uses) granted by the Minister of Housing, Planning, Community & Local Government. Deployment of an ocean energy device may require an Environmental Impact Assessment (EIA) depending on its nature, size and location, in accordance with European Union (EU) law and national legislation. Similarly where a development is located in or near a site designated for nature conservation purposes, under the EU Habitats Directive, an Appropriate Assessment (AA) may also be required. If a development comprises onshore works (terrestrial) planning permission from the adjoining planning authority (County Council) will be required. A new Maritime Area and Foreshore (Amendment) Bill is expected to be enacted which will align the foreshore consent system with the planning system in order to streamline the EIA and AA processes for projects.
2017 saw the publication of guidance on Environmental Impact Assessment Reports (EIAR) and Natura Impact Statements (NIS) for offshore renewable energy projects ensuring best practice is adopted in order to develop the industry in an environmentally friendly manner. Further guidance is anticipated on Environmental Monitoring and baseline data collection in the coming months.

MARKET INCENTIVES
In September 2017 the department of Communications Climate Action and Environment issued a the 'Public Consultation on the Design of a new Renewable Electricity Support Scheme in Ireland'. This public consultation focused on the design options of the proposed new RESS for Ireland. This was the second stage in this process to review and design Irelands Renewable Energy Support Scheme (the initial consultation had been issued in July 2015)
While the primary objective of the new RESS is to incentivise the introduction of sufficient renewable generation to deliver national and EU wide renewable energy and decarbonisation targets, there are other energy policy objectives. The objectives include: the broadening and diversifying of the renewable technology mix, enhancing security of energy supply, promoting economic development, and supporting community and citizen participation in the transition to a low carbon economy. These objectives must be met, while simultaneously delivering value for money for the consumer. Providing pathways for increased community participation is also considered be a cornerstone of the new scheme, delivering on Energy White Paper commitments.
The proposed new RESS has been designed with the primary policy objective of delivering sufficient renewable electricity to meet Ireland's contribution to the EU wide renewable energy targets, out to 2030. The proposed design also meets Ireland's three energy pillars of Competitiveness, Security of Supply and Sustainability, while simultaneously addressing other stated government ambitions. The Floating Feed In Premium (FIP) performed best against the assessment criteria and was selected as the primary financial support mechanism for the new RESS. This support will be allocated through auctions, with potential exceptions for small-scale generation or emerging technologies.
A separate Community Category in also included within the RESS to support community-led projects. Several proposals regarding the features of a community scheme within the new RESS consultation were suggested. These proposals included: projects supported under the RESS must offer the community an opportunity to invest, a floating feed-in-premium (FIP) should be made available for smaller community projects (<6MW wind, <1MW other technologies), and development grants should be made available to suitable community-led projects. The report also explored several means of enabling communities to make their investments, including tax incentives, green bonds, facilitating crowd funding and offering investment soft loans. No recommendation is made regarding supporting these options but further analysis of these measures is proposed to understand their suitability. It is also proposed that pathways for micro-generation be developed outside of, but in conjunction with, the main RESS.
The public consultation generated thousands of responses and it is anticipated that it will take a number of months in 2018 to review and integrate these into the plan. Feedback on the plan and proposed direction is anticipated once this process is completed.

PUBLIC FUNDING PROGRAMMES

SEAI Prototype Development Fund
SEAI's Prototype Development Fund aims to accelerate and enhance support for the research, development, testing and deployment of wave and tidal energy devices. The emphasis is on industry-led projects, and covers a broad scope, including the following indicative types of activities:
Projects to develop and test wave and tidal energy capture devices, systems and sites.
Independent monitoring of projects/technologies.
Industry-led R&D aimed at the integration of ocean energy into the electricity market and the national electricity grid (and network).
Data monitoring, forecasting, communications and control of ocean energy systems.
The programme launched in 2009 and to date has supported over 100 projects with +€14m grant funding.
Pre-Commercial Technology Fund
In order to meet the changing requirements of the ocean energy sector, and particularly ocean energy technology developers, SEAI is investigating funding mechanisms to help accelerate the commercialisation of wave and tidal energy devices and components. In 2016 the Marine Renewables Industry Association (MRIA) published its report 'Funding the Development of the Ocean Energy Industry in Ireland', with the support of SEAI. This report recommends the establishment of a 'Pre-Commercial Technology Fund (PCTF) to close the 'funding gap' for device and sub-system developers at TRL3+ and to complement the current Prototype Development Fund'. SEAI are progressing these recommendations and have sought further advice from appropriate consultants and stakeholders on how to develop a scheme appropriate to the Irish market and Industry.
OCEANERA-NET
The ERA-NET scheme is an innovative component of the European Union's Framework Programme, which supports co-operation of national/regional research funding programmes to strengthen the European Research Area (ERA). OCEANERA‐NET (http://www.oceaneranet.eu), aims to coordinate and support research, innovation and knowledge exchange in the Ocean Energy sector amongst European countries and regions, by launching transnational competitive joint calls for funding collaborative RTDI projects. SEAI is a participant in the OCEANERA-NET, along with 16 funding Agencies from 9 European countries. Six projects with nine Irish partners were approved in the two OCEANERA-NET joint calls.
Ocean Energy ERA-NET Cofund
The Ocean Energy ERA-NET Cofund (OCEANERA-NET COFUND) is a five-year action that secured support through the European Union's Horizon 2020 Programme for Research and Innovation in 2016. This new programme will build on the work of OCEANERA-NET and with an increased budget and financial support from the EU Commission, the COFUND programme focuses on collaborative projects that demonstrate and validate innovative technologies for ocean energy. OCEANERA-NET COFUND aims to support transnational, collaborative research and development projects in ocean energy through joint calls and carry out other joint activities which will enhance the coordination of public research and innovation programmes and improve the exploitation of results of the projects funded. The first joint call was launched in 2017 and was open to applicants from three European countries (Ireland, Spain, Sweden) and four regions (Brittany, Pays de la Loire, the Basque Country, and Scotland). Five projects with seven Irish partners were approved in this COFUND joint call.
Marine Renewable Energy Ireland (MaREI)
MaREI is a centre of excellence for marine renewable energy, supported by Science Foundation Ireland (SFI). The Centre combines the expertise of a wide range of research groups and industry partners, with the shared mission of solving the main scientific, technical and socio-economic challenges across the marine and renewable energy spaces. In addition to facilitating fundamental research activities, the MaREI research programme is closely aligned to the requirements of its industry partners and the marine and renewable energy sectors as a whole, providing innovative solutions that reduce the time to market, and reduce costs to a competitive level.
MaREI's research capabilities draw upon the excellent track record of well-established marine and renewable energy-based research groups across each of its academic partners, covering a wide range of cross-cutting topics such as device design and testing, novel materials, offshore operations, coastal and marine management, marine robotics, observation and monitoring, energy storage, aquaculture and green gas. The research team comprises internationally recognised experts in these fields from University College Cork, National University of Ireland, Galway, University of Limerick , Maynooth University, University College Dublin and Cork Institute of Technology, who have complementary research backgrounds key to providing the underpinning research necessary for Ireland to achieve commercially successful marine and renewable energy industries.
By the end of 2017, MaREI had over 200 researchers in place working on a variety of fundamental and applied research projects across its six academic partner institutions. These included targeted projects with 45 industry partners, comprising a range of SMEs and MNCs across the marine and renewable energy spaces. The contract with SFI for funding for the current centre is due for renewal in 2019. MaREI has sought additional funding to expand their research brief and the Universities involved in the project. Results of this application will be confirmed in 2018.
Lir National Ocean Test Facility
The Lir National Ocean Test Facility (NOTF) is a world-class center for renewable energy and marine research, located in the UCC Beaufort Building in Ringaskiddy, Co. Cork. Lir is a custom designed test facility which features upgraded and expanded tanks and equipment for the testing of small scale ocean energy renewable devices. Testing infrastructure includes:
A new Deep Ocean Wave Basin (circa 1:15 scale testing).
The Open Ocean Emulator, an ocean wave basin with a sophisticated 2 sided paddle system and a two sided absorption system (circa 1:50 scale testing).
A wave and current flume with coastal/tidal testing capabilities (circa 1:50 scale testing) and a wave demonstration flume.
Mechanical and electrical workshops.
Electrical testing infrastructure, including a smart-grid and a series of linear and rotary rigs used to test power take-off and energy storage.
Lir is an essential part of Ireland's ocean energy research and testing infrastructure and provides a significant launch pad for both national and international marine renewable energy developers. The upgraded facilities will provide support to developers in taking their first steps in testing and developing their devices and is a vital component of Irelands test infrastructure.
EU Projects
Ocean Energy projects that Irish partners are participating in through European-funded programmes include:
The H2020 INFRARIA 2016-2017 MaRINET2 project will provide and co-ordinate free access to ocean energy developers to test infrastructure throughout Europe. MaRINET2 will build upon the previously successful MaRINET programme. UCC are project co-ordinators. Facilities at NUI Galway and the University of Limerick are also included, as well as the Galway Bay Marine and Renewable Energy Test Site.

The H2020 INFRADEV 2016-2017 Marinerg-i project, led by UCC, aims to unite Europe's leading renewable energy research organisations to become the leading international distributed infrastructure. Its integrated nature and co-ordinated approach will accelerate the research development and deployment of offshore wind, wave, tidal and combined energy technologies and help maintain Europe as a global leader in this sector.

The H2020 TAOIDE proposal is to develop a fully-integrated generator to grid energy delivery system with high reliability and availability, suitable for use in multiple architectures of marine renewable energy systems. This work will provide the basis for development of a power production system certified for use in marine renewable energy applications – a system designed for the specific environments and regulations of the European Union market, utilising skills, expertise and capabilities of European partners. The Irish partners in this project are ORPC Ireland, UCC, and Letterkenny Institute of Technology.

The H2020 OPERA (Open Sea Operating Experience to Reduce Wave Energy Cost): The primary objective of OPERA is to gather open-sea operating experience to reduce the cost of wave energy. UCC/MaREI are a contributing partner

The H2020 FloTEC Project (Floating Tidal Energy Commercialisation): The FloTEC project will demonstrate the potential for floating tidal stream turbines to provide low-cost, high-value energy to the European grid mix. The project will entail the construction of a turbine device that will be deployed alongside an existing floating tidal array which will serve as a demonstration platform for commercially viable tidal stream energy. Irish partners include UCC/MaREI and Eirecomposites.

INTERREG NWE FORESEA project (Funding Ocean Renewable Energy through Strategic European Action). This project aims to help bring ocean energy technologies to market by providing access to North-West Europe's world-leading network of test centres. Through the project, the performance of innovative ocean renewable energy technologies will be demonstrated in real sea conditions, helping to leverage the investment needed to take these new products to market. Irish Partners are Smartbay Ireland and access to the Galway Bay test site can be achieved through this mechanism.

INTERREG BRYDEN PHD Programme. This programme offers fully funded PhD Studentships in Marine renewable energy and Bio-energy in the following institutions - Queen's University Belfast, University of the Highlands and Islands, Letterkenny Institute of Technology, Ulster University, Agri-Food & Biosciences Institute, Donegal County Council and Dumfries and Galloway Council. Using a Doctoral Training Centre model, the BRYDEN CENTRE project will recruit 34 PhD students and 6 PDRAs; each of whom will work with industry to produce industrially relevant research with the potential for commercial exploitation and resulting economic growth within the region. Final output will be 68 peer reviewed journal and conference publications with cross border authorship. Letterkenny IT are the Irish Partners in this project.
TECHNOLOGY DEMONSTRATION

OPEN SEA TEST SITES
Ireland has a unique ladder of development and test site infrastructure, allowing developers to move from laboratory test facilities at the Lir National Ocean Test facility in Cork, to a quarter scale test bed in Galway Bay and to a full test facility at the Atlantic Marine Energy Test Site (AMETS) near Belmullet, Co. Mayo. Significant steps were taken to further develop these facilities in 2017.
Galway Bay Marine and Renewable Energy Test Site
Ireland's ¼ scale ocean energy test site is located within the Galway Bay Marine and Renewable Energy Test Site and is situated 1.5 km offshore in water depths ranging from 20 m – 23 m. The site has provided test and validation facilities for a number of wave energy devices and components to date. The SeaPower platform, a quarter-scaled wave energy converter, was successfully deployed to the site between November 2016 and March 2017. The scaled wave energy converter produced both energy and survivability data during that time.
November 2017 saw the successful testing of the Acoustic Array System, design for deployment at the test site. This equipment was produced through the Acoustic Monitoring project, a multi-disciplinary research and development initiative led by SEAI and supported by the Marine Institute and running since 2012. The Acoustic Array System comprises of multiple sensors in an array and it is intended to be placed in the vicinity of a wave energy converter to quantify the noise emitted by the device.
Activity at the site was somewhat limited in 2017 due to unforeseen delays in granting an updated foreshore lease for the site. However on December 19th the Department of Housing, Planning and Local Government announced that the foreshore lease for Galway Bay Marine and Renewable Energy Test Site had been renewed. Under the conditions of the new lease, three marine renewable energy test devices can be deployed at the test site for a duration of up to 18 months, with the exception of floating wind devices which may only be deployed for 12 months. As a condition of the lease the Marine Institute will appoint a community engagement officer to liaise with the local community regarding on-going operations at the site and will provide an information centre in the vicinity of the test site.
Atlantic Marine Energy Test Site (AMETS)
SEAI is developing the Atlantic Marine Energy Test Site (AMETS) to facilitate the testing of full-scale ocean energy converters in an open ocean environment. It is located off Annagh Head, west of Belmullet in County Mayo, and will be connected to the national grid. AMETS will provide for full-scale test opportunities in extreme Atlantic conditions and is intended as the ultimate test site for pre-commercial stage devices.
AMETS will be focused on the development of wave energy convertors and will provide two separate test locations, at 50 m and 100 m depths to allow for a range of devices to be tested. The site will be grid connected and will allow for 10 MW of production.
A foreshore lease for the test site has been awarded after going through the necessary consenting and environmental monitoring processes. Planning permission for onshore aspects of the site have also been secured and grid connection work has commenced. Currently preparation is being made for a substation build, as well as development of multiple cable routes connecting to both the testing berths.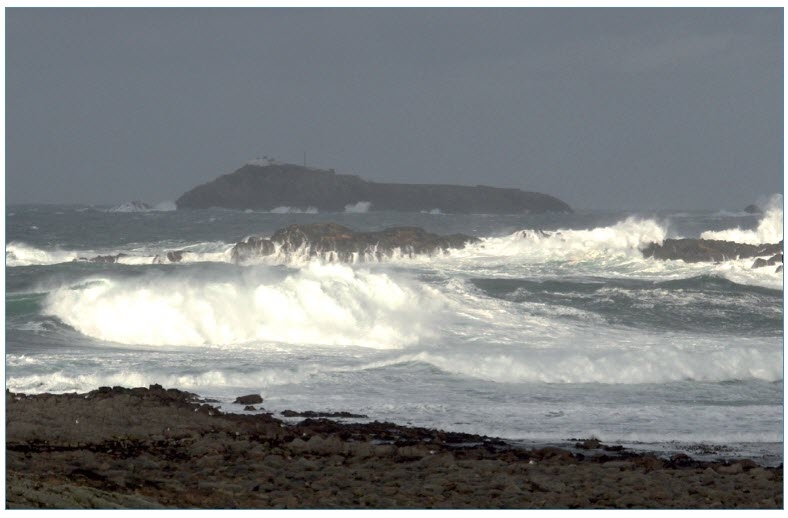 Belmullet coastline, Co. Mayo


PLANNED DEPLOYMENTS

GKinetic Ltd. is a Co. Limerick based developer of a submerged tidal energy device composing of twin, multi-bladed, vertical axis turbines mounted either side of a tear drop shaped 'bluff body' that will be moored to the seabed. The concept has undergone staged development, in line with industry best practice. Previous testing has been undertaken at NUI Galway, the IFREMER flow tank facility at Boulonge-Dur-Mer in France and numerical modelling for design optimisation. GKinetic conducted a series towing tests of a 1/10th scale version of the turbine system in Limerick Docks in late 2015 in order to understand and assess the performance of the technology, and will re-deploy in 2017 for more advanced testing. In August 2017, GKinetic carried out tests on an improved prototype in the Limerick docks for a period of six weeks. The devices newly improved PTO system and blade performance were monitored with important data gathered.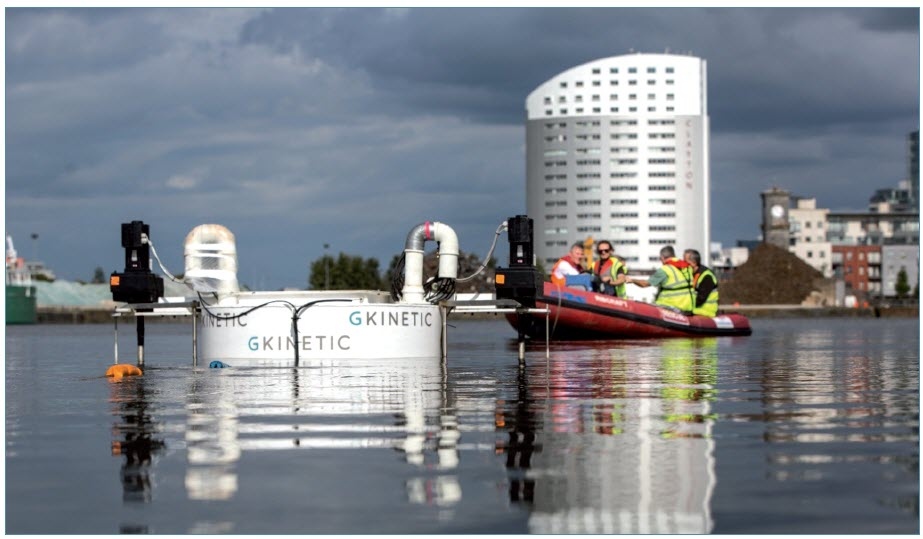 GKinetics 1:10 scale model being tested at Limerick Docks
SeaPower Ltd. is a Co. Sligo based R&D and engineering company who have developed a wave attenuator device called the SeaPower Platform. Since its conception in 2008, SeaPower have progressed from numerical modelling and design, to tank testing in Cork, and now to the open sea Galway Bay Marine and Renewable Energy Test Site. The company have received support from the SEAI Prototype Development Fund throughout its development, and the current project saw the device deployed to the quarter-scaled Galway Bay test site from November 2016 until March 2017. Since deployment, the company have been continually receiving wave energy data and assessing survivability
in open sea winter conditions. With the renewal of the lease for the Galway Bay Marine and Renewable Energy Test Site testing will continue in 2018.

SeaPower Platform at Foynes Port, Co. Limerick in 2016 (Left). SeaPower Platform being towed
to the Galway Bay test site in 2016 (Rigth).


OE Bouy plan to test a half scale model in US Navy WETS facility in Hawaii in September 2018. The project is co-funded by both SEAI and DOE in the US. The project has been in place since 2016 and up to now has focussed on the design of the technology and planning for transport and access to the site. It is stage/phase 4 of the Development & Evaluation Protocol for Ocean Energy technology, the prior stages having been completed with financial assistance from the Marine Institute, Enterprise Ireland, EU funding and SEAI. The prior stage included a number of deployments at the Galway Bay Quarter Scale test site – during which the device accumulated over 24,000 hours of open water testing.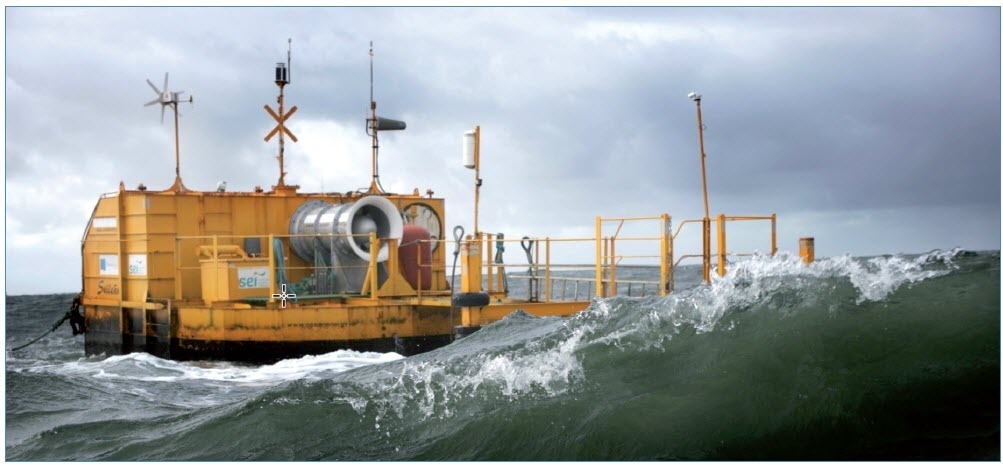 Ocean Energy Buoy in Galway Bay Marine Renewable Energy Test Site
ESB's WestWave project aims to develop a 5 MW wave energy project off the west coast of Ireland, at a site near Killard, Co. Clare. The current phase of the project is developing the foundations for this project to allow the capital investment and procurement phase. Ongoing activity includes to securing the required permits, conducting site investigations, including detailed wave measurements, and to developing the design and functional specification of the project. It is anticipated that applications for the site's Foreshore Lease and onshore planning permission will be lodged in 2018.
OTHER RELEVANT NATIONAL ACTIVITIES

Ocean Power Innovation Network
The Ocean Power Innovation Network (OPIN) is a collaborative industry network that has been developed by agencies in Ireland, Northern Ireland and Scotland. The network's mission is to advance innovation in the sector by learning from experts in other industries, to push the boundaries of what's possible in ocean energy and progress innovative ocean projects in a coordinated way. To date OPIN has facilitated 4 workshops in 2016 and 2017, held in Dublin, Edinburgh, Belfast and Aberdeen, which have exposed attendees to the benefits of Open Innovation, highlighted opportunities for learning and technology transfer from other sectors such as offshore oil and gas, and encouraged valuable industry collaboration.

The Ocean Energy Ireland Portal (www.oceanenergyireland.com)
The portal, designed by SEAI and the Marine Institute with input from numerous other groups, acts as a 'one stop shop' to guide developers through the supports available in Ireland for the marine renewable energy sector. All information is aligned under six axes of activity which provide access to marine data, maps, tools, funding and information relevant to renewable energy site assessment, development and management.
The website and its content are continuously updated, and 2017 saw numerous new or upgraded features. The Marine Renewable Energy Atlas, an interactive GIS map of Ireland and its waters, was updated to include the most relevant, high quality downloadable data available. 2017 also saw the redesign of the media section of the website with a greater focus placed on user friendliness.
MARINE SPATIAL PLANNING POLICY
Marine Spatial Planning (MSP) is not currently used as a decision making tool. However, the Marine Coordination Group is progressing the development of MSP in Ireland, work that will continue in the short and medium term.
The 2014 EU Directive on a Framework for Maritime Spatial Planning requires Member States to put maritime spatial plans in place by March 2021 at the latest. Ireland has until 2016 to transpose this directive into Irish law. The Department of the Environment, Community and Local Government will play a leading role in the development of a maritime spatial planning framework for Ireland.
As part of the Department of Communications, Energy & Natural Resources (DCENR) Offshore Renewable Energy Development Plan (OREDP), a Strategic Environmental Assessment for Marine Renewables was also conducted in 2010.
Separately the Marine Renewables Industry Association (MRIA), the trade association for marine renewables on the island of Ireland, has previously published a White Paper on Initial Development zones (MRIA, 2010). This proposed that four initial Development Zones (IDZs) for Ocean Energy should be prioritized by the Government and that efforts to achieve the 2020 target should be focused on these zones.
Site selection is a matter for project developers in the first instance, subject to the relevant consent processes. Work has now commenced, through the OREDP, on mapping opportunity and constraints to inform future development.
AUTHORITIES INVOLVED
The competent authorities currently involved in consenting for offshore energy projects are:
• Department of the Environment, Community and Local Government (DECLG) – responsible for consenting of activities/developments on the foreshore (HMW to 12 mile territorial sea limit);
• The Commission for Energy Regulation (CER) – responsible for licensing construction of new generating stations and their subsequent operation.
• EirGrid and ESB – transmission and distribution operators, respectively;
• Local planning authorities or An Bord Pleanála (The Irish Planning Authority) – responsible for consenting onshore components development.
CONSENTING PROCESS
The main steps for the offshore energy project consenting are the following:
• Foreshore license/lease (managed by DECLG) – while the nature, scale and impact of these projects can vary significantly, all require foreshore consent (i) to investigate/survey the site; (ii) to construct the development (and cabling); and (iii) to occupy the property. Currently, both the development consent and property management aspects of a foreshore lease or license are addressed simultaneously by the Minister for the Environment, Community and Local Government, when determining whether it is in the public interest to grant a foreshore lease or license;
• Permission to generate and grid connection (managed by CER) – generators with an installed capacity of 1 MW or less do not need to apply to the CER for an authorization to construct or a license to generate. Grid connection is subject to a separate administrative process involving either the transmission or the distribution system operators;
• Onshore development – where a project includes onshore components, consent for development will be required from relevant local planning authorities and/or An Bord Pleanála (The Irish Planning Authority).
There is no specific authority responsible to manage the ocean energy consenting process as a whole ("one stop shop" facility or entity). However, the new Maritime Area and Foreshore (Amendment) Bill will align the foreshore consent system with the planning system in order to streamline the EIA and AA processes for projects.
ENVIRONMENTAL IMPACT ASSESSMENT
An EIA is assessed on a case-by-case basis. In the case of a proposed development on the foreshore, DECLG formally decides as part of the foreshore consent process whether or not a project would or would not be likely to have significant effects on the environment.
DECLG undertakes a screening exercise in respect of each application to determine if an Environmental Impact Assessment (EIA) is required. Where a proposed development also requires planning consent for development onshore, the relevant planning authority (a local authority or An Bord Pleanála) as part of the planning process will decide if an EIA is required or not.
In the case of a proposed development on the foreshore, if an EIA is required the foreshore lease/license application to DECLG will have to be accompanied by an Environmental Impact Statement (EIS) in accordance with section 13A(1)(c) of the Foreshore Act, 1933.
LEGISLATION AND REGULATION
There is no specific legislation to deal solely with ocean energy. Ocean energy developments are subject to the same legislation as any other marine development.
The Irish Government has recently published the Offshore Renewable Energy Development Plan which enables cross government support and collaboration for the sector and will inform ongoing review of relevant legislation.
The current Foreshore Act has been in place since 1933 and has been subject to limited updating in that time. A new Maritime Area and Foreshore (Amendment) Bill is expected to be enacted. The new Bill will aim to align the foreshore consent system with the planning system, to streamline the EIA process for projects and to provide a coherent mechanism to facilitate and manage development in maritime sea.
Two other policy initiatives are also of relevance. The Government of Ireland published 'Harnessing our Ocean Wealth' in 2012. This is an Integrated Marine Plan for Ireland which has the goal of delivering a thriving maritime economy, healthy ecosystems and more engagement with the sea. As part of the implementation of this policy two specific Task Forces have been created: the Enablers Task Force, which has been working on MSP at a strategic level, and the Developers Task Force.
With respect to the OREDP, a Steering Group has been created to take forward actions identified in the plan. These actions are being delivered by three working groups with particular focus on the environment, job creation and infrastructure development.
CONSULTATION
The provisions of the Public Participation Directive were applied to consent applications under the Foreshore Acts which require the preparation of an EIS by the European Communities (Foreshore) Regulations 2009 (S.I. No. 404 of 2009) and the European Union (Environmental Impact Assessment) (Foreshore) Regulations 2012 (S.I. No. 433 of 2012).
These regulations amend the Foreshore Act and apply to the consideration of foreshore consent applications subject to EIA. These regulations provide an enhanced level of public participation and information sharing on environmental matters.
GUIDANCE AND ADVICE
There are the following guidance:
• Guidance notes for pre-application consultation and investigate licenses available on the Department of the Environment, Community and Local Government (DECLG) website.
• Guidance for Authorization to Construct and License to Generate are available on the Commission for Energy regulation website.
TEST CENTERS
Usually deployment in designated test centers are already pre-consented so developers do not have to submit a full application comprising all the typical consents providing certain initial conditions are met.
The Galway Bay Test Site is currently operated as a pre-consented test site where developers may test their quarter scale devices. The lease for the Galway Bay Test Site will be reviewed in 2016.
In the case of the Atlantic Marine Energy Test Site, is it anticipated that a lease will be granted to the Sustainable Energy Authority of Ireland (SEAI) and individual WEC developers will be required to apply for a license consenting authorities (currently DECLG) to use an area within the test site. It is intended that the SEAI will produce guidance for developers in this regard going forward.