The potential of ocean energy has been studied since the 80s and recently the Ministry of Economical Affairs and the Ministry of Infrastructure have acknowledged the energy and export potential. Business and other organizations joined forces in a trade association called the EWA (Netherlands Energy from Water Agency).
Many techniques and projects have been developed, resulting in the following highlights:
The 1.25 MW tidal power plant in the Eastern Scheldt, which was installed by the end of 2015, performed very well in 2016. The T2 tidal & free flow turbine of Tocardo has been awarded with a Statement of Feasibility by an independent certification body. This will further help to commercialise the technology.

REDstack was rewarded as one of the three 'National Icons'. REDstack generates electricity from the salinity difference between sea- and fresh water.

In 2016, Pentair Fairbanks Nijhuis started with the construction of their 1 MW fish-friendly bi-directional turbine in the Grevelingendam. Commissioning and grid connection are scheduled for March 2017.

During the OTEC 2016 symposium in Amsterdam, organised by BlueRise, a Memorandum of Understanding (MoU) was signed between the Dutch Marine Energy Centre (DMEC), the Dutch Energy from Water Association (EWA) and the Ocean Energy Association of Japan. The aim is to bring Dutch marine energy innovations closer to the market.

Early in 2016, the Bluetec floating platform was commissioned with a larger T2 Tocardo turbine.

Huisman sold its shares in Tocardo International B.V. to the Canadian company Tribute Resources Inc.

Tocardo has successfully tested their UFS-platform (Universal Foundation System, a U-shaped platform). Tocardo has announced that five upgraded T2 250 kW rated turbines will be installed in the Minas Passage in Canada's Bay of Fundy, late in 2017.
SUPPORTING POLICIES FOR OCEAN ENERGY

NATIONAL STRATEGY AND TARGETS
The Netherlands does not have a national strategy for ocean energy and nor are there specific targets. The ocean energy strategy is part of the national target of 16% renewables in 2023.
The marine spatial planning is focused on offshore wind, special areas have been appointed for offshore wind (3500 MW). There are no offshore ocean energy projects planned yet.
A spatial analysis of the potential of the North Sea with a view to 2050 has been made, with regard to offshore wind and ocean energy.
The North Sea Spatial Agenda indicates a potential of up to 2000 MW of tidal current and wave energy to be possible, if techniques are developed further to fit the Dutch situation, with relatively low tidal heads and speeds. Although in some cases there is fast flowing water of estuaries, and near barriers there are places with high speeds up to 5 m/sec.
For 2017, the generic national subsidy scheme (SDE, stimulating renewable energy) has also been open for tidal current, wave energy and free flow energy. The maximum subsidy for renewables has been reduced to €0,13/kWh, due to the decreased costs of offshore wind, which is considered as the benchmark.

REGULATORY FRAMEWORK
Although there is a central permitting system, in practise, consenting requires engagement with a wide range of permitting bodies such as central government, province, municipality, Rijkswaterstaat, local harbour authorities, ministry of defence and the regional water board.
The Netherlands' Department of Waterways and Public Works (Rijkswaterstaat) supports initiatives to generate energy, but, on the other hand, is responsible for protecting the Netherlands from flooding from the North Sea. In general, the current projects have been supported generously and erected quickly.

MARKET INCENTIVES
There are no specific market incentives for ocean energy or other renewable energies. The generic DEI (Demonstration of Energy innovations) subsidy scheme supports projects with a focus on export of Dutch technology. In 2016, a few new ocean energy projects have been rewarded.

PUBLIC FUNDING PROGRAMMES
Since the 1990s, the Ministry of Economic Affairs has initiated a number of grants via generic R&D instruments; these are also available for ocean energy research.
Many projects have been supported in National funding programmes; Archimedes Wave Swing (for wave (swell) energy), Tocardo Tidal turbines, REDstack (salinity with reverse electro dialyses), BlueWater (tidal), BlueRise (OTEC), Teamwork Technology (tidal, wave) and many R&D Institutions, like ECN, NIOZ, Wetsus, Imares, Deltares, Marin, TNO and the Universities.
At the moment, two projects have been granted within the DEI (Demonstration of Energy innovations) subsidy scheme; BlueTec and Tocardo-Huisman.
The following R&D projects have been developed during 2016:
Tocardo Den Oever (tidal current, free flow)

BlueWater Delft (tidal energy, free flow)

REDstack Sneek (salinity gradient energy)

Bluerise Delft (OTEC)

Arteq Power Rotterdam (OTEC)

Teamwork Technology (wave energy)

Tocardo VAWT (tidal current)

TECHNOLOGY DEMONSTRATION

OPERATIONAL PROJECTS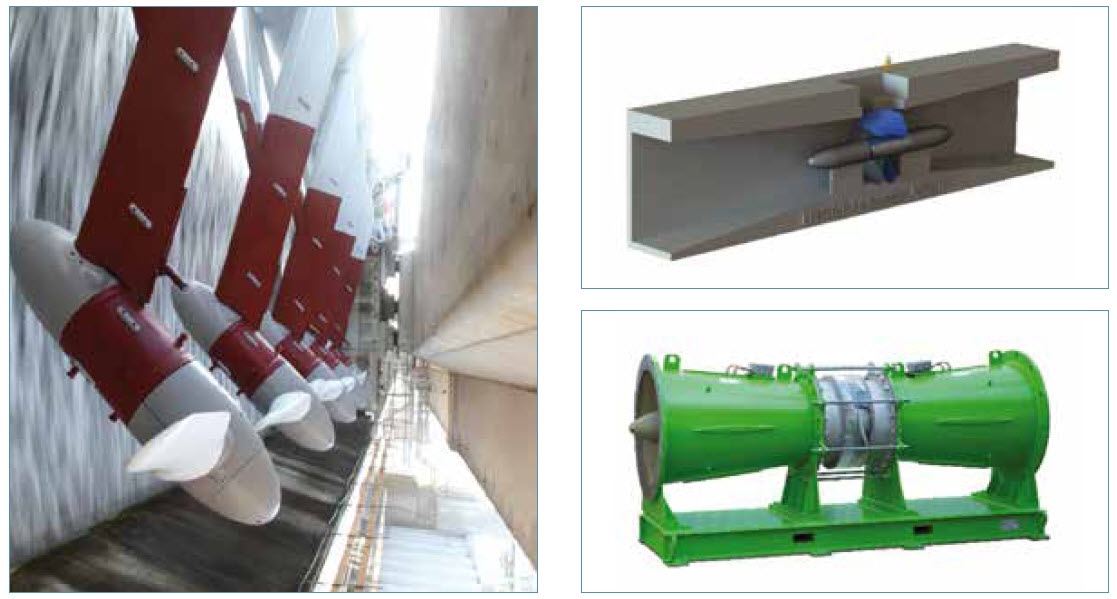 Tocardo's 1.25 MW demonstrator in the Eastern Scheldt barrier (left) & The 1 MW Pentair Fairbanks Nijhuis bi-directional turbine to be installed in the 'Grevelingendam' (right)


The REDstack test facility and demonstration project at the 'Afsluitdijk'
PLANNED DEPLOYMENTS
OTEC Pilot Curacao (500 kW)

OTEC Pilot/Demo Martinique

Tidal Energy Marsdiep (200 kW)

Tidal Test Centrum Grevelingen Barrier; several techniques

Follow up of Tocardo in Eastern Scheldt (2 MW)

Brouwers Barrier tidal range plant (after 2018, various scenarios)

Several arrays in Afsluitdijk discharge gates (further future)