OES at the 1st International Seminar on Marine Energies in Argentina
OES attended the 1st International Seminar on Marine Energies (SIEMAR), that took place on the 26th and 27th of November in Buenos Aires, Argentina.
The Seminar was organised by Unidad Académica de Mar del Plata, the Secretaría de Relacionales Internacionales del Rectorado de la Universidad Tecnológica Nacional (International Relations Secretary of the National Tecnological University) and el Ministerio de Ciencia, Tecnología e Innovación Productiva (Ministery of Science, Tecnology and Innovation).
Distinguished international and national speakers were gathered in this event to speak about marine Energy.
OES was presented by its chairman, Jose Villate who also participated in the opening session together with Dr. Mentaberry (Executive Coordinator of the Scientific Cabinet of the Ministry for Science, Technology and Innovation of the Argentina Government).
The OES's chairman stated that it has been "an excellent forum to share information about research projects in Argentina and to find out latest progress on ocean energy worldwide".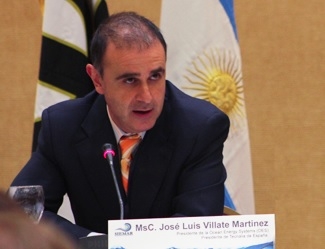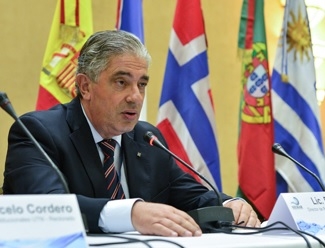 Jose Villate (OES Chaiman) and Francisco Galia (conference host)