The Canadian marine renewable energy sector progressed steadily in 2016, while achieving some significant milestones for the Canadian industry. Notably, the first grid connected tidal turbine was deployed at the Fundy Ocean Research Centre for Energy (FORCE). FORCE experiences water speeds up to 5 m/s on ebb and flood tides.
Canada is fortunate to have plentiful resources available in tidal current, river currents (hydrokinetic) and wave energy across the country. Canada is well positioned to support the development of this industry with its three open-sea test sites for tidal current (FORCE), river hydrokinetic (Canadian Hydrokinetic Turbine Test Centre (CHTTC), and wave energy (Wave Energy Research Centre). Canada's opportunity in this industry is great; as such, Canada has been working at the national level as well as the provincial level to support this industry to ensure that Canada is successful in the development and deployment of marine renewables.
The Canadian marine renewable energy sector has continued to develop supportive tools to assist technology developers and project developers to advance their technologies. In 2016, many new resources became available, such as the Supply Chain database, a map of Canadian clean energy resources and projects, and a tidal energy atlas for Nova Scotia.
Canada has also continued to excel on understanding the marine resource through the West Coast Wave Initiative (WCWI), for their advanced wave measurement and mapping technologies and skills, and understanding sustainable tidal energy development through the Acadia Tidal Energy Institute (ATEI). Natural Resources Canada (NRCan) and National Research Council (NRC) are continuing to work collaboratively to understand the detailed extractable resource, array configurations, and the potential market opportunities of Marine Renewables in Canada.
NATIONAL STRATEGY
The Canadian Marine Renewable Energy Technology Roadmap establishes targets for the Canadian sector. The roadmap, published in 2011, identified long term targets for the Canadian sector to contribute to projects totalling 250 MW by 2020, and 2 GW by 2030 for installed in-stream tidal, river hydrokinetic and wave energy generation.
Marine renewable activities are taking place across Canada; however, the most progress is taking place on the Atlantic coast in the province of Nova Scotia for tidal energy. Nova Scotia's Marine Renewable Energy Strategy outlines the Province's plan to promote innovation and research, establish a regulatory system and encourage the development of competitive technologies and an industrial sector. Released in 2012, the Strategy set a target of licensing 300 MW of cost-competitive in-stream tidal electricity generation.

REGULATORY FRAMEWORK
At the federal level, the Government of Canada's 2016 Budget supported the Department of Natural Resources Canada's advancement of a legislative framework for offshore renewable energy. As part of this work, Natural Resources Canada is conducting broad stakeholder engagement in 2016 and 2017, including provincial and territorial governments, industry associations, environmental organizations and indigenous organizations, to inform the development of a future legislative framework for renewable energy projects in federal offshore areas.
At the provincial level, the province of Nova Scotia introduced its Marine Renewable Energy Act in 2015, to provide a clear and efficient process to support the sustainable growth of the sector. Now, Nova Scotia is getting ready to release Marine Renewable Energy Regulations in support of the Act. The Regulations will clearly establish a system for designating an area for the purpose of generating marine renewable electricity and issuing licences or permits in order to develop a marine renewable energy project. The Province anticipates that the Act and Regulations will be proclaimed in early 2017. Once proclaimed, the Act and Regulations will govern the development of marine renewable energy resources in designated areas of the Nova Scotia offshore.

MARKET INCENTIVES
The Fundy Ocean Research Centre for Energy (FORCE) is Canada's leading research centre for in-stream tidal energy, located in the Bay of Fundy, Nova Scotia. FORCE provides five berths to host technology developers, with electrical infrastructure to deliver power to the grid. Five developers with projects at FORCE have received Developmental FIT approvals from the Province, totalling 22 MW to be developed at the FORCE site:
Minas Tidal Limited Partnership (4 MW)

Black Rock Tidal Power (5 MW)

Atlantis Operations Canada (4.5 MW)

Cape Sharp Tidal Venture (4 MW)

DP Energy (4.5 MW)
Each of these developers have received approval for the Developmental FIT path (ranging from 37.5 cents/kilowatt hour to 57.5 cents/kilowatt hour), which allows them to enter into a 15-year power purchase agreement with Nova Scotia Power, the provincial electric utility.
In addition, Fundy Tidal Inc. has received three approvals under the Province's COMFIT program, which allows local community groups to connect small scale in-stream tidal devices, under 500 kW, to the electrical grid at the distribution level over a 20-year contract at a rate of 65.2 cents/kilowatt hour. The province of Ontario FIT Program had been introduced to develop, encourage and promote greater use of renewable energy sources including on-shore wind, waterpower, renewable biomass, biogas, landfill gas and solar photovoltaic for electricity generating projects; for electricity generating capacity greater than 10 kW and up to 500 kW projects. For waterpower, river hydrokinetic energy projects would be eligible. In 2016, the FIT Program offered a 40 years contract with energy rate of 24.6 cents/kWh.


PUBLIC FUNDING PROGRAMS

NATIONAL FUNDING PROGRAMS:
To date, Canada's main public funding program supporting national research, development and demonstrations are from federal programs administered through the Office of Energy Research and Development at Natural Resources Canada. Canada has committed approximately $37 million to marine renewable energy since 2010.

Sustainable Development Technology Canada (SDTC), an arm's length foundation created by the Government of Canada, has committed approximately $13 million to develop and demonstrate projects that include in-stream tidal, river hydrokinetic and wave energy technologies. The National Research Council has an Industrial Research Assistance Program (IRAP) which has supported many early technology assessment and physical numerical modelling trials. Most projects have benefitted from the refundable tax credit for Scientific Research and Experimental Development.

PROVINCIAL FUNDING PROGRAMS:
At a provincial level, Nova Scotia has directly invested in the FORCE development initiative through a contribution of $11 million. In addition, the Nova Scotia Offshore Energy Research Association (OERA) has supported a number of strategic research projects in marine energy, which is estimated be a value of approximately $5.1 million. In addition, provincial economic development agencies and funds, in Nova Scotia, Quebec, Ontario and British Columbia, have provided at least $10 million to support projects.

On the Pacific coast, the province of British Columbia has two programs under the Innovation Clean Energy (ICE) fund applicable to Marine Renewable Energy: The Community Energy Leadership Program, and the Post-Secondary Clean Energy Partnerships (PSCEP) Program. The ICE fund is designed to support the Province's energy, economic, environmental and greenhouse gas reduction priorities, and to advance BC's clean energy sector. In 2016, BC provided just shy of $250 thousand to support the advancement of the marine industry in British Columbia, with a focus
on the development of wave energy.
ACADIA TIDAL ENERGY INSTITUTE (ATEI)
Acadia Tidal Energy Institute (ATEI) out of Acadia University focuses on projects that seek to ensure tidal energy development is sustainable through risk reduction and informed decision making. Over the past year this work included the following:
Completed the Nova Scotia Tidal Energy Atlas and made available for multi-stakeholder use. The atlas is an interactive web-based mapping application that makes tidal energy related spatial information readily accessible to the public (http://tidalenergyatlas.acadiau.ca/)

Developed a hydrophone harbour porpoise click detector. Further work is underway using drifting hydrophones; this project will advance acoustic environmental sensors and software for detecting fish and marine mammals.

Completed modelling of fish-turbine encounter probabilities using data collected from fish tracking studies

Examination of fish presence and distributions at the FORCE site

Development and delivery of educational programs

Development of a Marine Renewable Energy Book in Governance,

Studies/reports covering funding and financial supports and tidal energy resource assessment.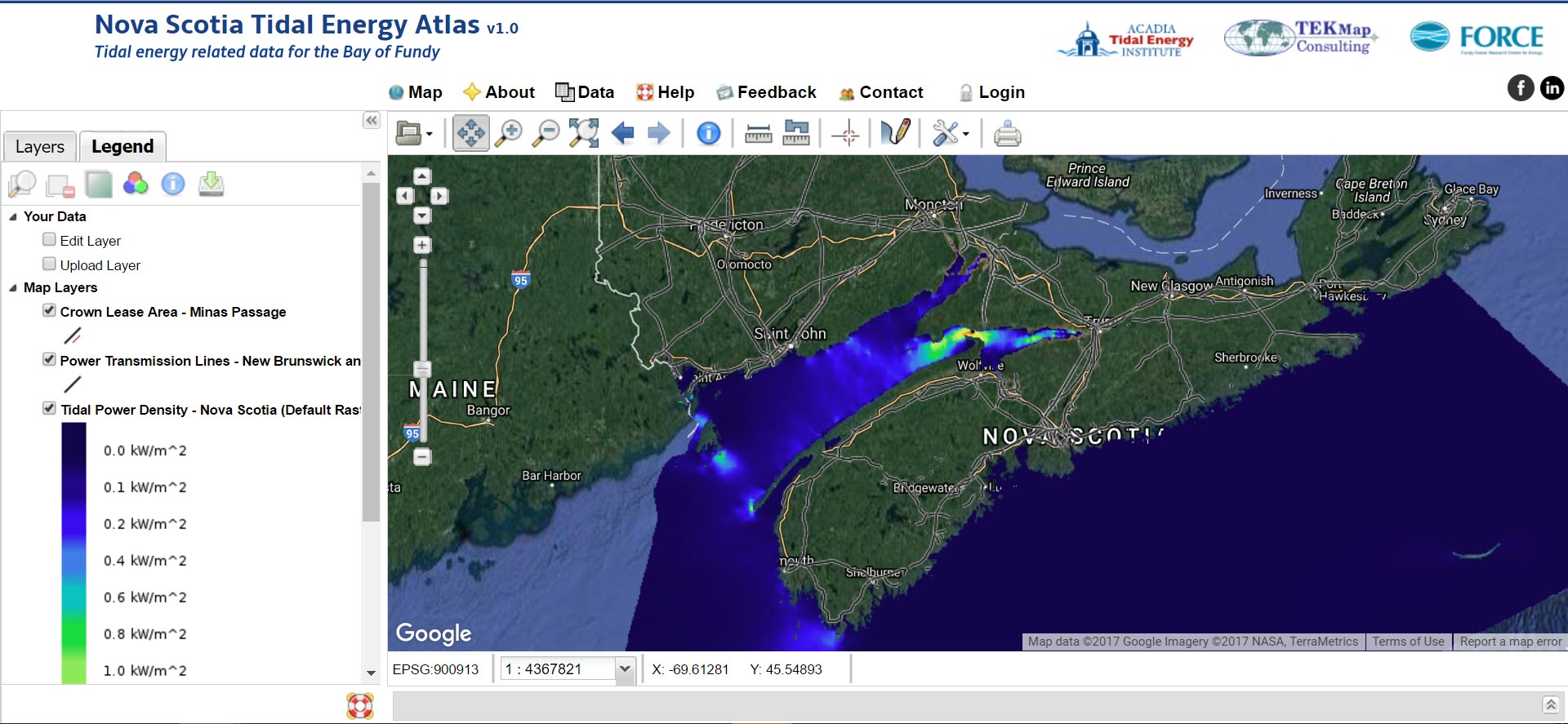 WEST COAST WAVE INITIATIVE (WCWI)
The West Coast Wave Initiative (WCWI), out of University of Victoria's Institute for Integrated Energy Systems (IESVic), continues to actively contribute to cutting edge wave research and development efforts for governments, technology and project developers across the globe. The WCWI completes high resolution wave resource assessments, detailed wave energy converter (WEC) technology simulations and both short term and long-term electrical system integration studies. The WCWI has developed and validated a high-resolution wave model of the British Columbia coast that is utilized as both on 12-year hindcast and a 48-hour forecast. The WCWI expanded its' WEC architecture and control system modelling efforts with new collaborating technology developers in Canadian Accumulated Ocean Energy and Scottish Nova Scotia Tidal Energy Atlas Trident Energy. This is addition to 2016 efforts for Resolute Marine Energy, Carnegie Wave Energy, Ocean Energy Ltd, and Seawood Designs.




West Coast Wave Iniative deplying a wave buoy and SWAN

model of the British Clumbia coastline
During 2016, the WCWI worked extensively with BC Hydro (the provincial electrical utility) to provide the necessary resource and technology inputs to ensure that the provinces long-term energy system transition planning accounted for the potential development of marine energy resources in the province. Additionally, WCWI is working closely with the BC Ministry of Energy and Mines to scope out the potential for BC to play an active role in the testing, deployment and commercialization of all marine energy technologies.
WCWI researchers continue to work closely with colleagues at Sandia National Labs, the National Renewable Energy Lab and the Pacific Northwest National Lab. The relationship revolve around the development of novel wave propagation codes to allow for the implementation of WEC farms within SWAN, to plan for future wave and tidal current measurement nodes along the western seaboard of North America and best practices in wave propagation modelling and resource characterisation respectively.

OFFSHORE ENERGY RESEARCH ASSOCIATION (OERA)
Nova Scotia's support for the demonstration of in-stream tidal energy technologies has attracted companies to the Bay of Fundy from around the world. Preparations to demonstrate tidal devices at five berths at the Fundy Ocean Research Centre for Energy (FORCE) are underway in response to government legislation, investment in FORCE, feed-in tariffs, and Sustainable Development Technology Canada grants. Any risks government can reduce through financial support, infrastructure investment, and clear policy and regulations will help incubate a sustainable industry, including the economic opportunities that come from technology innovation and supply chain expertise.
To help ensure Nova Scotia and Canada will benefit from a sustainable marine renewable energy industry over the longer term, research has been commissioned by the Department of Energy through the Offshore Energy Research Association (OERA) to identify a suite of applicable funding and financial support mechanisms used in different jurisdictions around the world, recommend a combination that may be suitable for the Nova Scotia context, and present the local entities that could administer such funding and financial supports for local tidal energy development. Work has also been underway on Environmental Effects Monitoring at the FORCE site that studies five major subject areas: fish, marine mammals, lobster, marine noise and seabirds. Various funding programs at OERA, such as their directed research, open calls and student research travel program, enables significant R&D to support the emerging tidal industry.

MARINE RENEWABLES CANADA – SUPPLIER DATABASE
To support industry growth and connect Canadian suppliers with marine renewable energy development opportunities, Marine Renewables Canada launched a Canadian Supplier Database in November 2016.'

The database is designed as a tool to connect Canada's expertise with wave, tidal, and river hydrokinetic energy development needs locally, nationally, and internationally.

The database will continue to be updated as further information becomes available on existing suppliers throughout Canada that could apply expertise and services to the marine renewable energy sector.

Marine Renewables Canada will be focusing on continuous improvements to the database, helping to ensure increased visibility for suppliers across the country.

The database can be found at:

(https://supplychain.marinerenewables.ca/)

MAP OF CLEAN ENERGY RESOURCES AND PROJECTS IN CANADA (CERP)
CERP has been launched by Natural Resources Canada showing Canada's clean energy resources and projects by province.

It allows the user to easily find Canada's renewable energy resource potential for various resources, including wind, solar, river hydrokinetic, tidal, reservoir hydro and wave energy.

The map allows the user to find clean energy test centres and government directed research, development and demonstration projects in emerging technologies.

The map can be found at: (http://atlas.gc.ca/cerp-rpep/en/)
BRITISH COLUMBIA MARINE ENERGY RESOURCE ATLAS AND RESOURCE ASSESSMENT
National Research Council (NRC) and Natural Resources Canada (NRCan) are collaborating to develop an interactive, publically available Marine Energy Resource Atlas. The atlas will provide information on wave, tidal and river hydrokinetic resources, combined with other relative socio-economic datasets. This atlas will be available to stakeholders as a decision support system in identifying and evaluating sites for prospective development. This project will also be used to estimate the potential future market penetration for marine renewables in the Province of British Columbia (BC). BC has been selected as a pilot location to develop the Atlas, and the resources will include tidal, wave and river hydrokinetic energy.

ADVANCING RIVER HYDROKINETIC ENERGY R&D
Natural Resources Canada (NRCan) has initiated a five year collaborative research project in advancing river hydrokinetic energy (RHE) with National Research Council (NRC), academia, and the marine energy industry. This project aims to develop new methodologies for identifying river locations for RHE projects, to evaluate and improve RHE systems performance, and to design technical guidelines for deployment of multiple turbines for large/utility scale projects.
OPEN SEA TEST SITES
Canada is fortunate to have plentiful resources available in Tidal Currents, River currents, and wave energy across the country. As such, Canada has test sites available for each of these areas outlined below:
TIDAL CURRENT TURBINE TEST SITE
The Fundy Ocean Research Centre for Energy (FORCE) is Canada's leading research centre for in-stream tidal energy, located in the Bay of Fundy, Nova Scotia. FORCE works with developers, regulators, and researchers to study the potential for tidal turbines to operate within the Bay of Fundy. FORCE provides five berths to host technology developers with electrical infrastructure in place to deliver power to the grid. FORCE's location in the Minas Passage in the Bay of Fundy, boasts 7,000 MW of energy potential, where an estimated 2,500 MW can be safely extracted without significant effects.
There is a peak surface speed of 5 m/s, and a 13 m tidal range. The five berths have been awarded and have received Feed-in Tariff approvals from the province, totalling 22 MW to be developed at FORCE.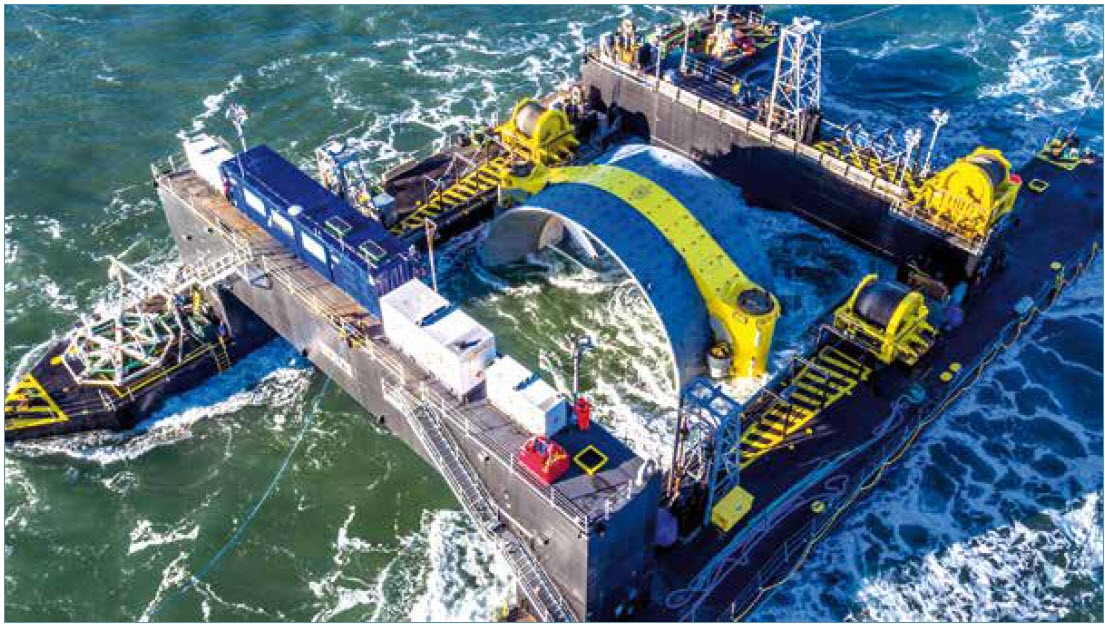 Cape Sharp Tidal turbine (2.0 MW) being deployed at FORCE site
2016 marked a significant event for FORCE when Cape Sharp Tidal, a berth holder at FORCE, installed their first 2 MW turbine and completed a successful subsea cable connection to the provincial electrical grid in early November 2016. This turbine is now generating electricity for Nova Scotia. The second Cape Sharp turbine is scheduled to be deployed in the Spring 2017.
Black Rock Tidal Power is aiming to deploy two full scaled semi-submersible platforms, which will host an array of Schottel Hydro turbines, generating up to 2.5 MW of power per platform. Black Rock Tidal Power, a berth holder at the FORCE site, is scheduled to begin installation of their first device in 2017. Minas Tidal Limited Partnership (Minas Tidal) is now the berth holder at the FORCE test site after Minas Energy, who previously held the berth, transferred the berth assignment to the new partnership in the summer of 2016. Minas Tidal is composed of International Marine Energy and Tocardo Tidal Power. Minas Tidal plans to deploy three Tocardo semi-submersible platforms at the FORCE site, outfitted with five 250 kW bi-directional turbine generators for a total of 1.25 MW per floating platform. Minas Tidal plans to begin the first platform deployment in 2017.
Atlantis Operations Canada and DP Energy have also received project approval from the Province and plan to deploy in-stream tidal energy technologies totalling 4.5 MW each, at the FORCE site by 2018.

RIVER HYDROKINETIC TURBINE TEST SITE
The Canadian Hydrokinetic Turbine Test Centre (CHTTC) in Manitoba, is operating using dedicated infrastructure on the Winnipeg River to test river hydrokinetic energy technologies. This facility is managed by team from University of Manitoba. The site is available to all Canadian and international companies developing hydrokinetic technologies focused on advancing and de-risking their technology. In 2016, CHTTC worked with Mavi Innovations, New Energy, and Gem Holdings to test their turbines on the Winnipeg River.
A flow measurement campaign was undertaken to characterize the velocity and turbulence profiles at the CHTTC. This will help to enhance the growth of river hydrokinetic energy industry technologies. The procedures developed at the CHTTC were applied to simultaneously operate a vertical ADCP, a horizontal ADCP and position an ADV within the water column.
To further advance river hydrokinetic technologies and to address Canadian Labour Code requirements, the CHTTC documented its river hydrokinetic turbine procedures. The CHTTC is working towards having the expertise within a commercial setting to apply the International Electrotechnical Committee's TC-114 standards (for Marine and river hydrokinetic energy) and provide manufacturers certification of their hydrokinetic turbines.

WAVE ENERGY CONVERTER TEST SITE
The College of the North Atlantic (CNA) operates the Wave Energy Research Centre (WERC) in Lord's Cove on the south coast of the island of Newfoundland. The Centre was established to conduct research in the development of a wave-powered water pump coupled to a novel shore-based aquaculture system. CNA has also installed and commissioned instrumentation to characterize the weather and wave conditions at the site, and completed bathymetric mapping of the area. Currently, there are six fully permitted mooring sites (at depths of 6 to 30 m) available within 1.5 km from shore. The site has collected more than three years of weather and wave environment data. With a dedicated wharf and slipway, the site is ideal for the testing and demonstration of wave energy converters and other surface and sub-surface structures in an energetic near-shore environment as well as the development of associated instrumentation and sensor systems.
The CNA has completed scaled model testing and expects to deploy a full scale prototype in 2017. This 10 ton wave energy converter is designed as a robust, low technology point absorber conceived to deliver a high volume of water to shore. The water can be used in industrial, aquacultural and electrical generation applications.
OPERATIONAL PROJECTS
The 20 MW Annapolis Royal tidal barrage power plant was commissioned in 1984 and continues to operate today. It is owned and operated by Nova Scotia Power (a subsidiary of the utility company EMERA). Annapolis Royal is the only commercial tidal power plant in North America.
Cape Sharp Tidal Venture installed the first of their two turbines into the Bay of Fundy at the FORCE site in Nova Scotia. The 2.0 MW turbine was installed and connected to the Nova Scotia electricity grid in November 2016.
Mermaid Power Corporation deployed its Neptune 3 wave energy device at Keats Island in December 2015 and was followed by Neptune 3A deployment in early September 2016.
Idénergie installed 6 river hydrokinetic turbines in 2016 to national parks in British Columbia and National parks.

The turbines were installed for seasonal purposes and were removed for the winter.

In 2017, additional 5 river hydrokinetic turbines will be installed in various Parks Canada site across Canada at approximately 0.5 kW nameplate capacity.





Idénergie turbine ready for deployment




Water Wall Turbine deployed 500 kW full size in-stream tidal demonstration turbine at Dent Island, BC in June 2016. Microgrid optimization utilized integrating the diesel gensets, turbine, and a Tesla energy storage system.

The unit has been removed from the site with plans to redeploy in 2017.

Many Canadian technology developers have also been working with international partners and have deployed their technologies in other countries.





Water Wall Turbine deployed at Dent Island, British Columbia
PLANNED DEPLOYMENTS
In the Bay of Fundy, there are another 20 MW of instream tidal energy planned deployments at the FORCE site. There are five technology developers planning deployments between 2017 and 2018:
Cape Sharp Tidal Venture, 2.0 MW turbine in 2017;
Black Rock Tidal Power, up to 5.0 MW with deployments beginning in 2017;
Minas Tidal Limited Partnership, up to 4.0 MW with deployment beginning in late 2017;
Atlantis Operations Canada, up to 4.5 MW with deployments beginning in 2018; and DP
Marine Energy, up to 4.5 MW with deployments beginning in 2018.

New Energy Corp. has been working with a First Nations community in Manitoba to supply a 25 kW EnviroGen Power Generation System. Approval and permits are in place, installation of the system is scheduled for summer of 2017. In partnership with CHTTC and Natural Resources Canada/CanmetENERGY, this project will be fully equipped to monitor the turbine performance.
In 2017, Mavi Innovations will be deploying the Mi1 floating tidal turbine at Blind Channel Resort and Marina to offset the operator's use of diesel fuel. The turbine will be integrated into the existing diesel network, along with an additional smart diesel gen-set and battery storage. Engineering, procurement and assembly were completed in 2016 with installation scheduled for spring 2017. Mavi will work with project partners including the University of Manitoba to measure the performance and assess the feasibility of this hybrid tidal power system.
As a result of the successful deployments at Keats Island, Mermaid Power Corporation has been able to make modifications for a new device, Neptune 4, which is under design and is targeted for deployment in early summer 2017.
Yourbrook Energy Systems launched a 3-month pilot project in Haida Gwaii for a small-scale prototype of its systems (up to 80 kW) in the Juskatla Narrows of Masset Inlet. The main objective of the project is to decrease the use of diesel generation in the region by replacing it with clean energy from tidal power.
In April 2016, Big Moon Power successfully completed their test trial of their Kinetic Keel technology in the upper Bay of Fundy. Big Moon Power considers their technology to be scalable and a viable system for generating electricity from the ocean's tides. They are planning their next steps as they continue to study their technology and its ability to function in the Bay of Fundy environment.
Many Canadian technology developers have been working with international partners to export their technology for future deployments in other countries.
IEC TC 114
Canada has been actively engaged in the standards development process for marine renewable energy since the inception of the International Electrotechnical Commission Technical Committee 114 (IEC TC114) in 2007, which is the international standards organization for marine and river hydrokinetic energy. The Canadian sub-committee, in collaboration with external partners, has completed 11 research projects investigating key questions to support standard development in wave energy, tidal energy, and river hydrokinetic energy systems. The net result of these efforts includes the publication of 8 technical specifications, with many others currently being drafted.

NEW INTERNATIONAL COLLABORATIONS
In November 2016, the Offshore Energy Research Association of Nova Scotia (OERA) and France Energies Marines (FEM) signed a memorandum of understanding to encourage joint research to develop new and innovative cost-reduction technologies and environmental effects monitoring for high-flow tidal environments. As a result of this MOU, a joint research call will be launched in 2017.

INTER-PROVINCIAL INITIATIVES
The province of Nova Scotia and the province of British Columbia have a signed memorandum of understanding on marine renewable energy – to further develop a cooperative approach to its respective marine energy development goals, which includes working with Nova Scotia's OERA.

BRITISH COLUMBIA'S INDUSTRIAL MARINE PROJECT
The province of BC is investing $200,000 in a partnership with the Association of British Columbia Marine Industries' (ABCMI) that will expand economic opportunities for the industrial marine sector. The goals of the "BC Industrial Marine Project" are to develop a baseline assessment and estimate of the marine sector's economic impact, identify opportunities for marine sector growth for the near and long term, and serve as a platform to support increased productivity and competiveness for future industrial marine activities. ABCMI has a mandate to bring together key stakeholders and work as a coordinated, representative voice to strengthen the BC industrial marine sector and champion its growth. The project will support a better understanding of the scope, capabilities, capacity, and characteristics of its broad industrial marine membership base including shipbuilding, refit, and ship repair; small craft marine; marine products; ocean science and technology (including marine renewable energy); marine industrial services; and marine professional services.

BRITISH COLUMBIA'S ROAD MAPPING EXERCISE
The BC Ministry of Energy & Mines is exploring a marine renewable energy initiative to support future development of innovative energy generating technologies. A road mapping exercise supported by the ICE Fund is underway to inform the full scope of stakeholders and to ensure the required consultations on this opportunity. A consultant is currently interviewing individuals across relevant areas of the public sector and stakeholder communities to develop a better understanding of the opportunity. This initiative has many touch points for stakeholders including: Environmental considerations; Energy and utilities; Economic development; Technology and innovation; and International access. The Road Mapping is expected to be completed in early 2017.

CENTRE FOR OCEAN VENTURES AND ENTREPRENEURSHIP
COVE is a collaborative facility based in Halifax Harbour, Nova Scotia for applied innovation in the ocean sector. Their mission it to propel the ocean economy by providing high quality marine infrastructure and a collaborative space in which a community of ocean enterprises can start, grow and prosper. Their primary goal is support ocean technology commercialization. The collaborative space at COVE will be home to local and global ocean technology businesses, start-ups, researchers, marine-based and service businesses that support the ocean technology sector.

CONFERENCES
The Marine Renewables Canada Annual Conference will be held in the fall 2017, Ottawa, Ontario.
MARINE SPATIAL PLANNING POLICY
At the federal level, there is no existing marine spatial planning policy for ocean energy. Spatial planning for ocean energy takes place only in the province of Nova Scotia.
Pre-selected areas for tidal current energy development have been selected in the province of Nova Scotia, in the Bay of Fundy.
Site selection was determined, in-part, by a Strategic Environmental Assessment (SEA) on tidal energy development in the Bay of Fundy (FORCE). Resource assessments were also considered as part of the site selection. Another area in Nova Scotia that recently underwent a SEA is Cape Breton Island, inclusive of the Bras d'Or Lakes.
The Oceans Act, Canada's Oceans Strategy, and the Policy and Operational Framework for Integrated Management of Estuarine, Coastal and Marine Environments in Canada provide the policy framework and guide Canada's approach to oceans management. Integrated Management efforts in Canada are being undertaken through an area-based approach that supports marine planning, management and decision-making at appropriate spatial scales, from regional to site-specific.
AUTHORITIES INVOLVED
The authorities involved in the consenting process are:
• Federal authorities: Fisheries and Oceans Canada, Transport Canada, Environment Canada, Canadian Environmental Assessment Agency, Employment and Social Development Canada, Public Works and Government Services, Aboriginal Affairs and Northern Development Canada.
• Province of Nova Scotia: Department of Energy, Department of Natural Resources, Department of Fisheries and Aquaculture, Department of Environment, Department of Labour and Advanced Education, Office of Aboriginal Affairs.
• Members of Nova Scotia's Federal/Provincial One Window Committee on Tidal Energy:
- Federal: Atlantic Canada Opportunities Agency, Transport Canada, Natural Resources Canada, Fisheries and Oceans Canada, Canadian Environmental Assessment Agency, Environment Canada, Aboriginal Affairs and Northern Development Canada;
- Provincial: Energy, Natural Resources, Aboriginal Affairs, Fisheries and Aquaculture, Labour and Advanced Education, Environment, Economic and Rural Development and Tourism.
CONSENTING PROCESS
Within the province of Nova Scotia, the Department of Energy is responsible for managing the consenting process through a "one window committee" process, consisting of federal and provincial government departments/agencies with an interest in the marine environment and ocean energy.
At the federal level, authorizations required prior to the approval of marine renewable energy projects include land use, project activities, transmission, occupational health and safety, operational safety, environmental protection and navigation.
At the provincial level, in Nova Scotia projects are not able to proceed in an area that has not undergone a SEA.
At FORCE testing site, projects must be approved by the Minister of Energy and are selected through a competitive Request for Proposal process.
A key piece to Nova Scotia's Marine Renewable Energy Act is the creation of a licensing and permitting system that will oversee the development of marine renewable energy projects. Any generator proceeding in a priority area without an approval will be in violation of the Act. A license will allow a project developer to carry out the business of extracting energy within a 'marine renewable-electricity area' (i.e., an area designated for development) through single or multiple devices. A permit will be issued to a temporary deployment of a device for the purposes of testing and demonstration. This system will ensure that projects proceed only after undergoing a thorough review by the Government and subject to effective Government oversight and monitoring.
ENVIRONMENTAL IMPACT ASSESSMENT
The Canadian version of an Environmental Impact Assessment (EIA), is typically required for projects.
A federal Environmental Assessment is required for tidal current projects 50 MW or greater. Tidal current projects less than 50 MW do not require a federal Environmental Assessment. If the tidal current project is located on federal lands (i.e. the federal seabed), then a federal Environmental Analysis is required. Tidal current projects less than 50 MW and located on provincial lands (i.e. the provincial seabed), are only subject to a provincial Environmental Assessment. In Nova Scotia, a provincial Environmental Assessment is required for tidal current projects greater than 2 MW. Projects can be subject to Environmental Assessments below these thresholds at either the federal or provincial level, subject to Ministerial discretion.
The Canadian Environmental Assessment Agency is the federal authority responsible for a federal Environmental Assessment.
Environmental Assessments usually require ongoing environmental effects monitoring throughout the lifecycle of a project.
LEGISLATION AND REGULATION
There is no legislation or regulations designed solely for the licensing of renewable energy activity in the offshore.
Nova Scotia's Electricity Act and Renewable Electricity Regulations outline two paths for the development of tidal energy projects: at a community level and large-scale R&D level. The Regulations outline a comprehensive application process that projects must undergo in order to receive one of two feed-in tariff rates.
In 2011, Canada's Federal Government established the Marine Renewable Energy Enabling Measures program to develop and present to Cabinet, by March 2016, a federal policy framework for administering marine renewable energy activities.
The Government of Nova Scotia passed the Marine Renewable Energy Act in 2015, which applies to Nova Scotia's Bay of Fundy and the Bras d'Or lakes. This legislation ensures that marine renewable energy projects, including in-stream tidal, tidal range, offshore wind, wave and ocean currents, are developed in a manner that respects the environment and the interests of local communities; ensures increased consultation and provides for the safe, responsible and strategic development of the industry; and establishes a licensing and permitting system for the placement of marine renewable energy generators in those areas.
CONSULTATION
Consultations can occur as part of the SEA process.
Nova Scotia also undergoes engagement with stakeholders, ratepayers, and taxpayers primarily at the SEA stage, but also throughout the lifecycle of the project.
Statutory consultation required:
At the federal level, the Government of Canada has a legal duty to consult Aboriginal people when there are potential or established Aboriginal or treaty rights that may be adversely impacted by a contemplated Crown conduct, such as a marine renewable project approval.
Like the Government of Canada, the Government of Nova Scotia has a duty to consult with the First Nations of Nova Scotia, the Mi'kmaq.
Informal consultation activities:
There are two cooperative mechanisms for Canada and Nova Scotia Mi'kmaq consultation—the Canada-Nova Scotia Memorandum of Understanding (MOU) on Consultation Cooperation and the tri-partite Mi'kmaq/Nova Scotia/Canada Consultation Terms of Reference (TOR).
The Nova Scotia Department of Energy leads an Energy Consultation Table with the participation of federal authorities and the Mi'kmaq where provincial energy issues are discussed.
GUIDANCE AND ADVICE
The One Window Committee, along with the Province of Nova Scotia's Marine Renewable Energy Strategy provide guidance to developers on potential permits/approvals, and review processes.
TEST CENTERS
The Fundy Ocean Research Centre for Energy (FORCE) has an approved Environmental Assessment for its full site, inclusive of its four deployment berths. As such, developers at the site do not have to undergo individual EAs. Developers are still required to provide applications to other relevant regulatory agencies.