SUPPORTING POLICIES FOR OCEAN ENERGY


NATIONAL STRATEGY
In France, the Energy Act (Loi de Transition Energétique pour la Croissance Verte), adopted in August 2015, defines an aim of 40% renewable energy in the electricity mix by 2030. In application, the 10-year targets for installed capacity and consented projects for all types of energy used in electricity production will soon be updated in the governmental "Pluri-annual Energy Policy". This roadmap, to be published in 2018, will set specific objectives on the horizon 2023 and 2028. With respect to ocean energies, figures will be provided solely for tidal energy (and not for wave energy, nor for OTEC).
A new law is being discussed to favour renewable energies by simplifying their deployment. Two situations are being debated:
to have the cost of the export cable supported by the French Transmission System Operator, for all offshore developments;
to streamline the legislative and legal framework by developing a so-called "permit envelope". This procedure would move most of the legal obligations (preliminary technical studies, initial environmental assessment, public debate) upstream of the actual permit issuance, thereby considerably reducing the risk for project developers as long as the technical details of the project do not diverge from the initial plan.
In parallel to this simplified consenting process, France has accelerated its Marine Spatial Planning (MSP) by launching a consultation in 2016, and pursues identification of dedicated sites for ocean energy projects. The final Strategic Seaboard Document (DSF) should be completed by early 2019.
MARKET INCENTIVES
An ongoing programme has awarded 2 demonstration pilot farms of tidal energy converters for partial support: presently, only the Normandie Hydro project is proceeding, led by the EDF-En/Naval Energies consortium at Raz Blanchard. This project benefits from an older feed-in tariff (173€/MWh) and reimbursable loans.
The industrial tidal sector is now expecting initial surveys (resource assessment, technical feasibility, environmental impact, consenting) to take place beginning in the 2nd semester of 2018, ahead of a likely call for tenders at a commercial scale, foreseen for two high-energy zones having already been identified: Raz Blanchard and the Fromveur Strait in Brittany. In this competition, a major part of the selection criteria relies on the assessed price per MWh.

PUBLIC FUNDING PROGRAMMES
In France, the general framework for RDI&D national public funding in MRE comes through the Investment for the Future Programme. Two main agencies and a public bank are involved in managing these funds through calls for tenders, namely the ADEME (Environment and Energy agency), the ANR (National Research Agency) and the public Bank of Investments (BPI France).
Awarded funds by the ADEME have thus been directed to river turbine arrays (some at estuaries where turbines function like a small capacity tidal array). Ongoing projects issued from calls for tenders of previous years also involve wave energy converters, tidal turbine prototypes and technological bricks like subsea connectors or hubs, foundation concepts, specific dredging or installation tools, etc.
In 2017, the ANR awarded financing to 6 MRE R&D projects through the "Institute for the Energy Transition" call for tenders, in conjunction with France Energies Marines. These public-private collaborative projects tackle technological bottlenecks and environmental issues. In all, and over the period 2015-2017, the government awarded 10 M€ of R&D funding through this program.

One of the activities of BPI France is to buy shares in SMEs. To this end, in 2017, it was among the investors that increased by 3,7 M€ Eel Energy's capital to support its tidal energy technology development.
All along the French coastline, at the regional level, local authorities also support the endeavours of the MRE sector. In addition to grants allocated to R&D federative programmes like the national institute France Energies Marines, or to local initiatives like WEAMEC, they invest in harbour facilities in order to enable the development of offshore wind and tidal industries, thus providing enough space to build plants along new quays, e.g. in Cherbourg, Brest and St-Nazaire.
The two French competitive Sea clusters, Pôle Mer Bretagne-Atlantique and Pôle Mer Méditerranée, have MRE in their roadmaps. Through a labelling process, they foster interest in collaborative projects that can apply for national funding (e.g. the common inter-ministerial fund, FUI), as long as the expected results of those projects can be quickly marketable.
CALL FOR PROJECTS: MARINE RENEWABLE ENERGIES INSTITUTE FOR THE ENERGY TRANSITION 2015
France Energies Marines, in cooperation with the National Research Agency, launched 21 successfully financed collaborative MRE R&D projects in the period 2015-2017. Below is a brief listing of the treated subjects in the projects started in 2017.
DiME - Dimensioning and met ocean: modelling and observations of extreme sea states for MRE
ABIOP- Accounting for biofouling through established protocols of quantification
MHM-EMR - In service health monitoring of MRE moorings to anticipate failures
POLYAMOOR - Durable and flexible polyamide moorings for MRE
SOLCYP+ - Monopile design for fixed offshore wind turbines, calculations for installation procedures
STHYF - Seafloor cable stability and hydrodynamics in strong tidal currents
GEOBIRD - Development of an innovative geolocation tag for seabirds
SPECIES - Submarine power cable interactions with environment

MaRINET2
Ifremer, Ecole Centrale de Nantes (ECN) and Oceanides are involved in the MaRINET2 project (http://www.marinet2.eu/), offering possibilities for technology developers to test their devices in recognized research facilities, including real sea test conditions. Under MaRINET2, calls are open to give developers the chance to access testing facilities in Europe free of charge. In the first call this year, 48 proposals were received from 21 countries. Support of €1.3 million has been awarded to 34 projects for free of charge access to testing facilities. The second call for proposals will open on the 15th of January, 2018.
| | | |
| --- | --- | --- |
| Ifremer and ECN have joined their efforts to set-up a grouping of scientific interest (GIS), named THeoRem, in order to create a National Research Infrastructure related to hydrodynamic testing facilities. The GIS was officially signed on 13 March 2017, between ECN and Ifremer bringing together a unique set of hydrodynamics facilities (3 test tanks and the SEM-REV open sea test site for ECN; 2 test tanks and the Saint Anne du Portzic test site for Ifremer). A dedicated website will be set-up early 2018 (www.theorem-infrastructure.org) | | |
EEL GEN project
The project, led by Eel Energy in partnership with Hutchinson and Ifremer, aims at developing a 1 MW tidal energy convertor using an undulating membrane. After having successfully performed a range of scaled model tank tests (at 1/20 and 1/6 scales), numerical modelling and material proofing, a prototype has been tested in Brest Harbour. The towed tests have been performed using the Iroise Mer - TSM Vessel Penzer. Results of the tests will feed the on-going development of the full-scale prototype.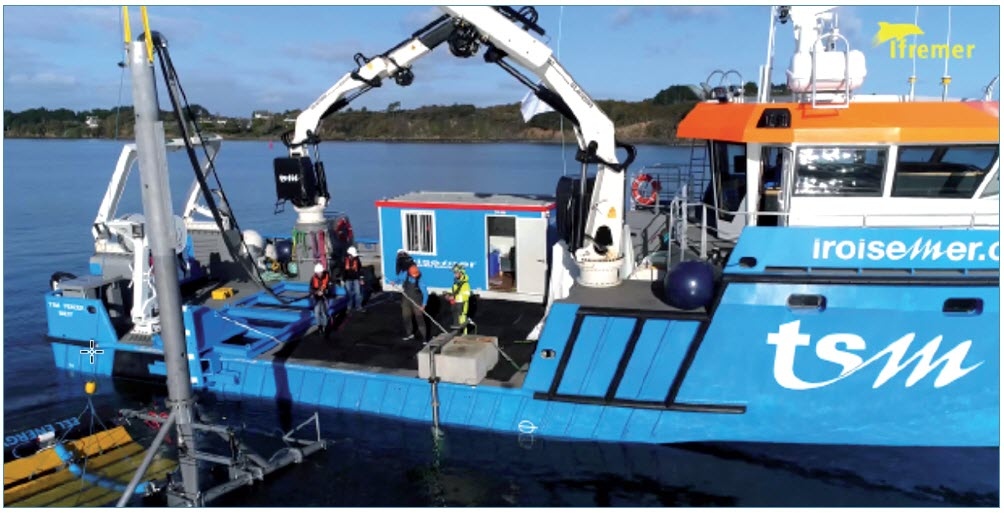 Set-up of the Eel Energy membrane for the tests in the Brest harbour – Copyright Ifremer
MET-CERTIFIED
MET-CERTIFIED aims to increase the adoption of insurable and therefore bankable marine energy projects in the European Interreg 2 Seas area (Southern North Sea and the Channel) through the development of internationally recognised standards and certification schemes in the sector. The project will be of big interest to many stakeholders involved in certification, from banks and insurers to consenting authorities, end-users, test facilities and classification bureaus.
The first experimental campaign (10 days of trials) has been carried out in the Ifremer wave and current circulating tank on a generic three-bladed horizontal axis tidal turbine at a scale of 1:20, for different flow speeds and turbulence intensity levels. The experimental set-up and protocols take into account the actual best practices and guidelines, in absence of standard protocols.
The publicized behaviour and performance (EWTEC 2017, Cork: Testing of marine energy technologies against international standards. Where do we stand ?, G. Germain & al.) allow to highlight some important points and procedures to focus on if the results from tank tests are to be exploited with confidence.

ICE
9 organisations from France and UK have partnered to tackle the challenge of energy vulnerability in areas located at the end of the distribution network and reliant on fossil fuels: the ICE project (2017 – 2020), "Intelligent Community Energy", is dedicated to improving, developing and promoting new, smart solutions for energy production, storage and consumption for an island or remote community. This project will be funded by the France (Channel) England Programme through the European Regional Development Fund (ERDF). In this framework, the D10 Sabella tidal turbine will carry on its demonstration installation at Ushant, an island at the western end of Britanny.
OPEN SEA TEST SITES
France has several test centres fully equipped and grid connected, where projects have been and are about to be tested: Floatgen, a nearly assembled offshore wind turbine had its mooring installed this summer at SEM-REV on the west coast, offshore Le Croisic, ahead of the actual shore connexion. In addition, 3 wave energy demonstrators are planned to be tested next year.
At SENNEOH, a tidal test site in the Gironde Estuary in the city of Bordeaux, the first tests of the ¼-scale HydroQuest marine turbine will be hosted. Future plans include testing their technology at full scale next year at Paimpol Bréhat, a tidal test site operated by EDF in North Brittany. BREST Saint-Anne is a new test site for scaled projects where GEPS Techno thoroughly tested its multi-energy platform (PH4S pilot project integrating wave, wind, tidal and solar energy conversion systems) and where EOLINK plans to test a 1/10-scale floating wind turbine in 2018.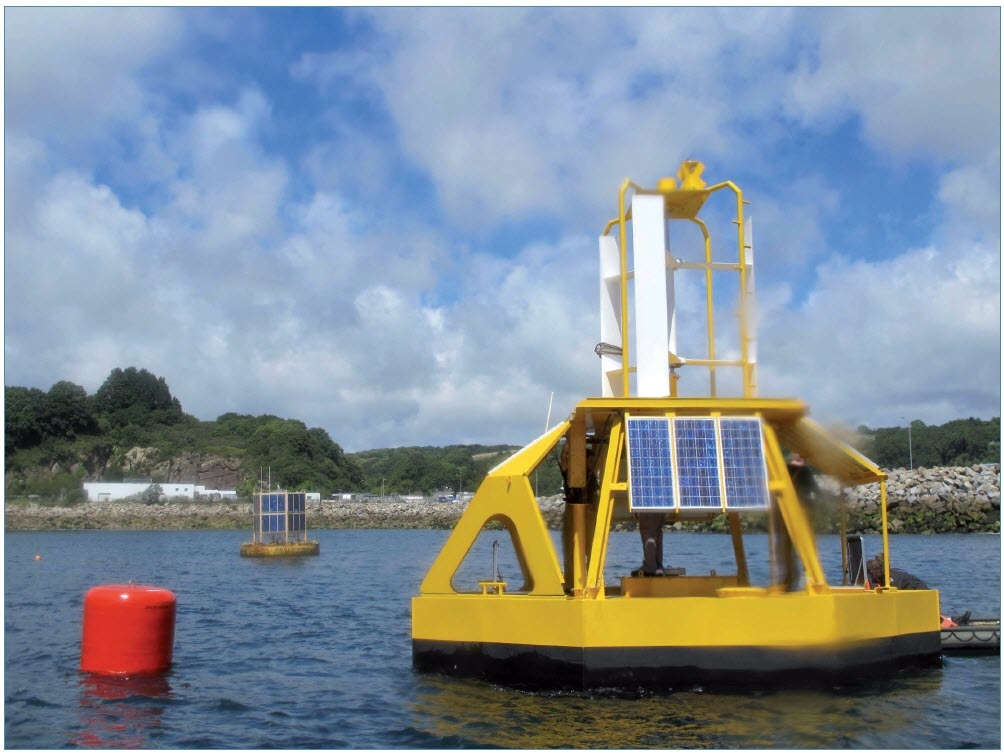 GEPS Techno PH4S prototype at Saint-Anne test site – Copyright Ifremer
PLANNED DEPLOYMENTS
Regarding the deployment of the Sabella tidal turbine at Ushant, and in addition to the ICE allowing the D10 demonstration to be continued, the PHARES project aims at implementing on this unconnected island a fully renewable production of electricity based on 2 Sabella D12 turbines (12 m diameter for a 2 MW capacity), 1 MW of PV, 1.5 MW from 1 onshore wind turbine and 2 MWh of battery storage.
The Normandie Hydro project plans to install a capacity of 14 MW with 7 tidal turbines operational in 2021. At a short distance in Cherbourg, Naval Energies launched in July of 2017, the construction of a plant dedicated to the assembly of 25 turbines/year.
Guinard Energies has proceeded to several operational tests at sea in Brest (Brittany) in 2017, with a 3.5 kW hydrokinetic device P66 (66cm diameter of the funnelled turbine) combined with solar panels and batteries. The complete power conversion chain has been tested and validated. Those first conclusive tests will be followed by a demonstration project in February 2018 on the Ria d'Etel site in Brittany. The system includes a complete off-grid scheme with solar panels and batteries, in order to confirm the power conversion flexibility and efficiency in harsh conditions. This demonstration will be followed by several P66 installation on- and off-grid through Brittany, French and overseas during the year 2018. The pilot site of Ria d'Etel will also be used for P400 (4 m diameter) demonstration.
Seanergy
The second annual international convention on marine renewable energies took place in Le Havre on 22-23 March 2017. In total, 3500 participants and 230 exhibitors from 20 countries participated in two days of presentations, seminars, meetings and expositions. This was also the occasion for the professionals to meet at a plenary meeting, one month ahead of the presidential election, with representatives of all the main candidates to hear their views on MRE.
In 2018, this national event will merge with the international congress ICOE which will take place in Cherbourg, also in Normandy, on 12-14 April. First presented at Seanergy, an assessment of marine renewable energy related jobs (in French) has been published1 this year: a total of 2086 direct jobs have been identified in this study, in the field of marine energies, in France (75% in relation to offshore wind and 25% in ocean energy).

MRE Masters programme
The engineering school ENSTA Bretagne continues to offer a specialized master's degree in marine renewable energies. Designed to complement a degree in engineering or a master's in mechanical engineering, the MRE Master's programme allows the acquisition of dual skills in engineering and MREs.