SUPPORTING POLICIES FOR OCEAN ENERGY

NATIONAL STRATEGY
The National Institute of Ocean Technology (NIOT), an autonomous institute under The Ministry of Earth Sciences (MoES), has been entrusted to develop technologies pertaining to ocean energy. NIOT also advises the Ministry of New and Renewable Energy (MNRE), which is primarily responsible for tariff fixation and policy formulation for renewables, feasibility and technical aspects of ocean energy related proposals as and when required.

PUBLIC FUNDING PROGRAMMES
The Ministry of Earth Sciences, under the Government of India, supports the programme on Ocean Energy and Desalination in NIOT.
The Ministry of New and Renewable Energy, under the Government of India, has a mandate to increase the share of renewable energy in meeting India's power demand. This Ministry also covers ocean energy as a part of the new technologies development programme and attempts to fund ocean energy devices which show promise.

RESEARCH & DEVELOPMENT
The National Institute of Ocean Technology, under the Ministry of Earth Sciences, carries out research and development activities related to ocean energy. A few academic institutions like the Indian Institute of Technology Madras and the Indian Institute of Technology Bombay are working on wave energy.

WAVE ENERGY

As part of the efforts to install a floating wave powered device to power loads or to meet the lighting requirements of coastal areas of remote locations, NIOT has been working on Oscillating Water Column (OWC) principle based wave energy devices such as Backward Bent Ducted Buoy (BBDB) over the last few years. Recently, NIOT has developed and tested a wave powered navigational buoy off the coast of Chennai. This buoy is sized for meeting the power requirements of a beacon lamp and will be used to mark navigational channels in ports and harbours. The total cost of this indigenously developed buoy is less than those available in the market. This buoy was formally launched on 13 November 2017 on the sidelines of the IEA-OES Executive Committee meeting held in Chennai.




Testing of NIOT's wave powered navigational buoy near Kamarajar Port, Chennai
An oscillating air flow test rig for testing wave energy turbines has been set up at the Indian Institute of Technology Madras with funding from NIOT. The rig is equipped with state of the art instrumentation and data logging system and can be used for turbines with maximum capacity of 1 kW.

ENERGY FROM OCEAN THERMAL GRADIENT
As a part of the activities related to Ocean Thermal Energy Conversion (OTEC), NIOT has set up a state of the art laboratory for carrying out studies on various components of OTEC and Low Temperature Thermal Desalination (LTTD). This facility is located inside NIOT campus in Chennai. The test setup is equipped with seawater pumping and storage system with capacity of 60 m3. Requisite surface sea and deep sea temperatures are maintained using oil fired heater and chiller. Studies on LTTD, open cycle OTEC and closed cycle OTEC can be carried out in this test setup along with combinations of them. The process equipment for this setup has been indigenously developed, and that includes a turbine for closed cycle operating with the R134a fluid and a turbine for open cycle operating with flashed steam. The facility was inaugurated on 13 November 2017 on the sidelines of the IEA-OES Executive Committee meeting held in Chennai.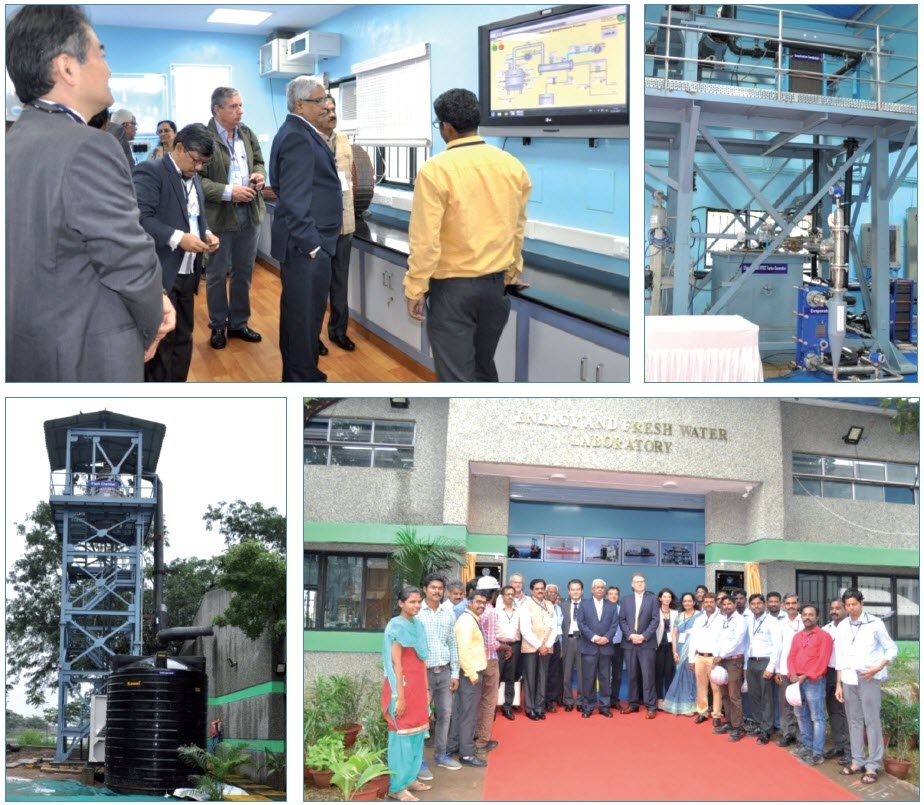 OTEC Desalination Laboratory at NIOT, India
TECHNOLOGY DEMONSTRATION

PLANNED DEPLOYMENTS

NIOT is building a few more prototypes of indigenously developed wave powered navigational buoy. These prototypes are planned to be deployed at different ports on the East Coast of India. These buoys will have beacon lamp and basic instruments to measure met-ocean parameters. The deployment is expected to be completed in mid-2018.
Also, it is planned to take up an Oscillating Water Column based wave energy project of 100 kW. The project will commence after the necessary clearances are obtained.
A recent survey carried out by NIOT at a few places on the Andaman and Nicobar Islands indicates that there is a good potential for hydrokinetic turbine deployment on the Andaman Islands. Based on these measurements, NIOT's ocean current turbine module with 1 kW average capacity is being readied for deployment in 2018 at a suitable location.
The preparatory work for OTEC powered Desalination Plant (at Kavaratti in the Union Territory of Lakshadweep), like surveys and legislative clearances, is about to be completed. The plant site has been identified and Request for Proposals (RFPs) is under preparation.

OTHER RELEVANT NATIONAL ACTIVITIES

As a step towards formulating a roadmap, NIOT organised a brainstorming session on Ocean Energy Development in India on 27 March 2017. The participation in this session was by invitation to key stakeholders from industry, academia, companies in public sector and government departments. It was recommended to install an intermediate scale wave energy converter on one of the islands, to carry out resource assessment for a few target locations, to work on inter-ministerial involvement in large OTEC projects and to explore hybrid energy production via multipurpose floating systems.
India hosted the 33 meeting of the Executive Committee of Ocean Energy Systems in November 2017 in Chennai. On the sidelines of this meeting, NIOT organised a workshop on ocean energy development on 13 November 2017 in Chennai with participants from the Department of Science and Technology, the Ministry of New and Renewable Energy, the Indian Institute of Technology, the Ministry of Earth Sciences, etc.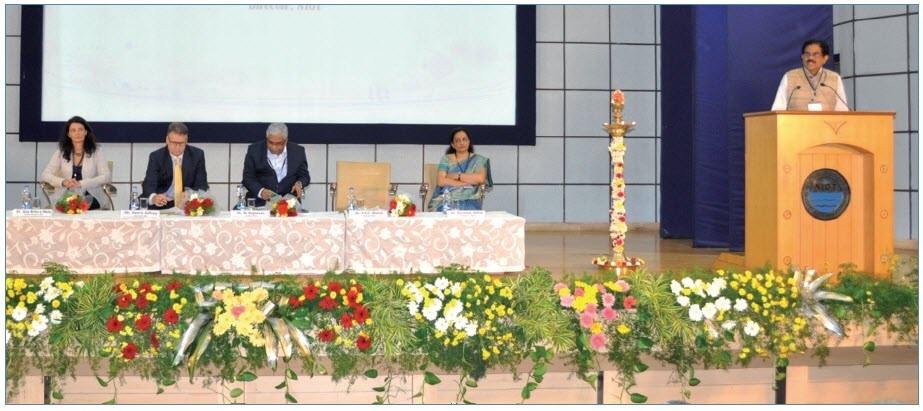 Workshop on Harnessing Energy from Ocean - A Global Scenario on 13 November 2017