SUPPORTING POLICIES FOR OCEAN ENERGY

NATIONAL STRATEGY
| | | |
| --- | --- | --- |
| Portugal has a National Ocean Strategy (NOS 2013-2020) to develop its maritime potential, based on knowledge, technological progress and utilisation of its entire maritime territory. In 2017, the Portuguese Government approved the Industrial Strategy for Oceanic Renewable Energies (EI-ERO) with a set of measures for wave energy and floating offshore wind. This follows the Resolution of the Council of Ministers in 2016 (no. 15/2016, of 9 March) which established a Working Group, coordinated by the Minister of the Sea, whose mission was the presentation and promotion of a public discussion of a model for the development of offshore energy in Portugal, with the objective of boosting investment in demonstration projects and pre-commercial projects in this area, with strong involvement of the industry. In this context, the report "Roadmap to an Industrial Strategy for Oceanic Renewable Energies"< was under public discussion between November 2016 and March 2017. A set of actions are proposed, among which the implementation of policies and financial support to accelerate the competitiveness of the Portuguese industry in specific niches of the ocean energy value chain, the financial support for the offshore electrical cable in Viana do Castelo (for the Windfloat 25 MW floating offshore wind project), the creation of a pilot zone in the same region and the development of innovation centres in ports acting as accelerator hubs of ocean energy technologies, as well as linking industry and science. | | |

PUBLIC FUNDING PROGRAMMES
The Portuguese Government has created a new mechanism "Fundo Azul" (Blue Fund) to develop the ocean economy, promote scientific work on the oceans and environmental protection. Tenders were launched in 2017 to award funds to projects from "new entrepreneurs of the sea" and for promotion of renewable energies.

RESEARCH & DEVELOPMENT

WavEC Offshore Renewables
WavEC is a private non-profit association, currently with 12 associates (private and public), and devoted to the development and promotion of offshore energy utilization thorough technical and strategic support to companies and public bodies. WavEC team is composed by 20 specialists with a broad range of experience on ocean energy, including both the technical (numerical modelling, wave resource, monitoring, technology) and non-technical (economic models, environmental and licensing, public policies, dissemination) issues.
WavEC is a founding member of the European Ocean Energy Association (OEE) and associate member of the European Energy Research Alliance.
WavEC is coordinating the European funded project WETFEET, running since 2015, and has been further involved in a number of R&D projects mainly funded by the European Commission and by the national Foundation for Science and Technology, through the funding programme Oceanera-net.
Three new projects funded by the European Commission programme Horizon2020 were approved by the end of 2017, to start in 2018:
MEGAROLLER: a 3-year project to develop and demonstrate a Power Take-Off (PTO) for wave energy converters, led by the Finnish developer AW-Energy which has been developing a project in Portugal.

SEA-TINTAN: a 3-year project to develop and demonstrate a Power Take-Off (PTO) solution based on the existing Wedge Global W200 PTO prototype, led by the Spanish developer Wedge Global.

DTOceanPlus: a 3-year project led by Tecnalia to develop and demonstrate an open source suite of design tools for the selection, development, deployment and assessment of ocean energy systems (including sub-systems, energy capture devices and arrays).

Instituto Superior Técnico
Two groups were active on ocean energy at Instituto Superior Técnico (IST), University of Lisbon:
Institute of Mechanical Engineering (IDMEC) with decades-long history in wave energy conversion studies;
Centre for Marine Technology and Engineering (CENTEC) whose involvement in ocean energy is more recent.
Following previous years, the activity at IDMEC concentrated on wave energy conversion, especially the development of new types of oscillating water column converters (OWCs) and self-rectifying air turbines. An important area of research at IDMEC is latching control of floating and fixed-structure OWC converters, taking advantage of new types of air turbines fitted with fast valves.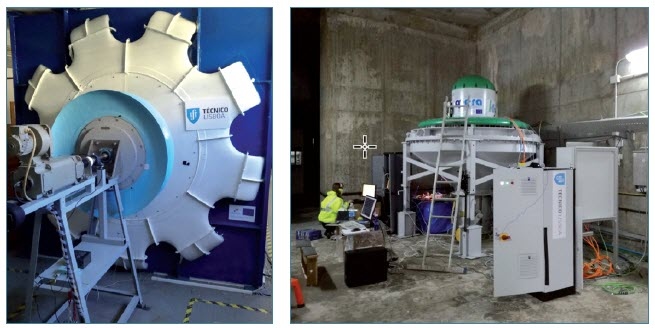 Model testing of the twin-rotor air turbine (left) at IST; biradial turbine prototype installed at the OWC-breakwater, Mutriku, Spain (right).
IDMEC/IST is a partner in the WETFEET project (European H2020 programme); in 2017, their involvement concerned mainly the dry-testing of the high-efficiency twin-rotor radial-inflow self-rectifying air turbine at IST. IDMEC/IST is also a partner in the OPERA project (H2020), in which, jointly with the Portuguese company Kymaner, they designed a prototype of the biradial self-rectifying air turbine with a new type of fixed guide vanes and a fast valve. The turbine prototype was supplied by Kymaner, and, after dry-testing at IST, was installed at one of the OWCs of the Mutriku breakwater (Basque Country, Northern Spain), where it has been operating under real sea conditions since June 2017. In 2018, the turbine will be installed on the spar-buoy OWC of the Spanish company Oceantec, for testing at Bimep test site (Northern Spain).
Ocean energy is a major area in the diversified activity of CENTEC/IST. The activities at CENTEC in ocean energy involved a wide range of topics covering waves, tidal currents and offshore wind. The characterization of the wave energy resource (and to a much lesser extent tidal and offshore wind energies) at various oceanic locations in the world has been one of the dominant topics. The study of ocean energy conversion has focused mainly on wave energy converters, with numerical theoretical/modelling and model testing of several types of devices and arrays, and also PTOs (namely hydraulic-circuit PTOs).

TECHNOLOGY DEMONSTRATION

OPEN SEA TEST SITES

During 2017 efforts were initiated to build a structured plan for developing testing infrastructures for different TRLs, providing technical support to developers, in order to attract projects to Portugal. The following test sites were proposed:
Viana do Castelo Pilot Zone – Offshore Farm Site
Following the Governmental decision in December 2016, a Pilot Zone for offshore wind and wave energy will be settle in Viana do Castelo (Northern coast of Portugal), managed by REN (the Portuguese TSO), where a first 25 MW WindFloat farm will be deployed in 2019. A 17 km electrical cable and an onshore electrical substation will allow other offshore energy technologies to be demonstrated. This site, located in depths between 85 and 100m, is currently being licensed for the installation of the Windfloat Atlantic Project. The Portuguese Pilot Zone created in 2010 at São Pedro de Moel has moved to this area. Currently the electrical infrastructure (onshore substation + static cable) is being designed and a tender has been launched by REN for a 200 MW cable.
Aguçadoura testing site - Offshore Test Site
This is a 4 MW grid connected offshore testing site offshore Póvoa de Varzim, for wave and offshore wind, which belongs to EDP and EFACEC. The test site, in 50 m water depth, is composed by a 6 km 4 MW offshore electrical cable, an onshore monitoring station and an onshore electrical substation. Previous devices tested at the Aguçadoura site comprised: the AWS wave power device (2000-2004), the Pelamis wave farm (2007 – 2008) and the WindFloat floating wind turbine (2011 - 2016).
Sines – Ocean Technology Incubation Centre
Sines Port Authority, WavEC and other Portuguese and Dutch companies have recently signed an agreement to develop a test centre for partial scale non-grid connected wave energy prototypes. A Letter of Intent signed in October 2017 foresees consenting of this infrastructure within the Port jurisdiction.
Peniche – Ocean Technology Centre
The Peniche Shipyard with a number of entities have been preparing a proposal to develop an ocean technology centre at Peniche Shipyard with a focus on the development and study of materials and its interaction with the ocean environment.


OPERATIONAL PROJECTS
In 2017, Pico Plant, on the Island of Pico, Azores, was still running, but a decision has been taken to decommission the plant which has achieved 10 years of continuous operation.

It is a shoreline OWC (Oscillating Water Column) wave energy pilot plant (www.pico-owc.net) built in 1995-1998 with support from the European Commission.

It is operated by WavEC and during the last decade, it has been used as a research and training facility.





The UK-based tidal energy developer Oceanflow Energy has been testing their Evopod E1 unit at Ria Formosa, a coastal lagoon in the south of Portugal.

This demonstration project at 1:10 scale has been conducted by the Marine Offshore Renewable Energy (MORE) team from the University of Algarve as part of European funded project SCORE whose goal is to examine the behaviour of small scale tidal current turbine in a shallow water estuarine environment.

The project started in April 2016 and will run for 3 years.




PLANNED DEPLOYMENTS

WaveRoller
During the year 2017, AW-Energy made significant progress in its commercial roll-out as the company secured an EPC agreement with Wärtsilä in September. Wärtsilä will now be selling WaveRoller technology on a turn-key basis throughout the life cycle. Another milepost was reached in August when Lloyd's Register issued WaveRoller the first Design Appraisal Certificate to be awarded in the wave energy industry. AW-Energy has also been working with external partners, such as WavEC Offshore Renewables and Queen's University Belfast, to further research and develop its product. AW-Energy's FOAK pilot project site in Peniche, Portugal, is now fully licensed. In addition, 8 MWA grid capacity is secured for commercial instalment and being prepared for customer use.
OTHER RELEVANT NATIONAL ACTIVITIES

WavEC organised a seminar on marine renewable energies on 11 November 2017. The event had 100 participants and counted with the presence of the Portuguese Minister of the Science and Technology.
IST and WavEC have been involved, since 2013, in the EUREC master course in Renewable Energy, offering a one-semester specialization in ocean energy. This took place from February to May 2017.
MARINE SPATIAL PLANNING POLICY
The Marine Spatial Planning (MSP) policy is used as a decision making tool.
In March 2015, the Portuguese Law 38/2015 was created laying down the bases for the Planning and Management of the National Maritime Space (LBOGEM), defining the legal framework that allows for the implementation of marine spatial plans in the whole national maritime space, including the continental shelf beyond 200 nautical miles.
AUTHORITIES INVOLVED
The authorities involved in the consenting process are:
• Portuguese Environmental Agency (APA);
• Coordination Committee on Regional Development (CCDR);
• Energy and Geology Directorate-General (DGEG);
• Portuguese Electricity Utility (EDP).
CONSENTING PROCESS
Ocean energy projects in Portugal require the following licenses:
• License for water resources utilization – managed by the Portuguese Environmental Agency (APA). This license is the main consent required and can be authorized through a license or concession:
- A license is required for devices deployed for less than one year and for installed capacity below or equal to 25 MW;
- A concession is mandatory for more lengthy time periods. In this case, a competitive public examination must be carried out, starting with a public announcement by the competent authority.
• Environmental license – managed by the Coordination Committee on Regional Development (CCDR), which is the regional authority;
• License for the power production or grid connection – a request made by the developer to the Portuguese Electricity Distribution (EDP);
• Building license for infrastructure on land (e.g. substation, cable routes) administered by the municipal council of the area where the project is to be installed.
ENVIRONMENTAL IMPACT ASSESSMENT
An Environmental Impact Assessment (EIA) is not required if the project, including marine and terrestrial parts, is to be located outside the national ecological reserve, Natura 2000 sites and/or the national grid of protected areas.
However, this decision still has to be confirmed by the licensing authority. If any part of the installation is located in an ecological reserve, Natura 2000 or a protected area (within one of the previous location/sites), an Environmental Effects Assessment (EIncA) has to be performed. The EIncA is a less demanding administrative instrument than the so called EIA. The entity responsible for the decision on whether an EIA/EIncA is required is the CCDR if it is a license, or APA if it is a concession.
The baseline survey is usually made through desk based studies although some developers of the few projects that have been installed in Portugal have carried out some baseline studies as required in the declaration of the EIA.
Monitoring is usually part of the EIA declaration issued as part of the environmental license. In Portugal the onerous post-deployment monitoring have been required for some marine renewable energy projects. Evidences should be given in periodic reports that monitoring in being carried out, and its results are usually analyzed by the Portuguese Institute for Nature Conservation (ICNF).
LEGISLATION AND REGULATION
Whilst there is no over-arching dedicated consenting system for ocean energy, all the required consents have been adapted to better suit wave energy developments.
Decree Law 225/2007, of 31 May, amends previous legislation on electricity production to accommodate electricity production from renewable sources and establishes regulation on the EIA process for such kind of projects.
CONSULTATION
Consultation is usually required as part of the legal licensing process. It is usually made after the Environmental Impact Statement is delivered to the authorities for approval.
Advices are asked by the licensing authority to a number of statutory consultees namely Institute of Nature Conservation, port authorities and a number of public authorities responsible for marine resources management.
There are informal consultation activities implemented during the licensing process: usually developers prepare a number of informal public events to disseminate the project and collect the public feed-back on their activities at sea.
GUIDANCE AND ADVICE
Some information on parts of the licensing process exists in the internet as part of the authorities' website. However there is no compiled information on all process and the developer is usually the manager of the project licensing procedures.
TEST CENTERS
Specific regulation for the Portuguese Pilot Zone – Ocean Plug – has been produced and provisionally approved by DGEG.