OVERVIEW
2018 has been a beneficial year for ocean energy in Spain. Several ongoing projects showed progress on reliability of ocean energy (a new full year operation at Mutriku Wave Power Plant feeding electricity to the grid), marine operations and improvements under OPERA Projects, several developments on corrosion and fouling resistant coatings being tested at the Marine Corrosion Test Site "El Bocal", a new offshore facility – HARSHLAB – placed at BiMEP to test materials, some off-grid wave buoy testing at PLOCAN and Punta Langosteira Test Site (a new test site at the Galician coast).
Anyway, there are still several barriers to remove. Ocean energy needs to demonstrate the ability to improve on efficiency, reliability and feasibility to be considered as a potential contributor to the future energy mix supply. And it needs a stable legal frame and proactive policy to push forward the development of the sector.

SUPPORTING POLICIES FOR OCEAN ENERGY

NATIONAL STRATEGY
During 2018, the Spanish Government started to work on the Energy and Climate National Integrated Plan 2021-2030, and the Energy Transition and Climate Change Law. Both, likely to be approved during 2019, will fix targets for 2030 and new rules to boost renewable energy in general and, hopefully, ocean energy specifically.
Nowadays, the energy policy relays on the new Ministry for the Ecological Transition and the main permits needed to develop an ocean energy power plant (environmental, use of the marine space, energy production) have to be approved by this Ministry.
Currently, there is no specific organisation responsible for the implementation of any Ocean Energy programme, because up to now Ocean Energy has not been a priority in the Spanish policy.
The Basque Government approved in 2016 its Energy Strategy for 2030, which included a specific initiative to speed up technology and commercial development for marine energy and set a target of 60 MW by 2030.
Regarding the regulatory framework, no dedicated consenting process exists for ocean energy technologies in Spain but there are several legal documents affecting ocean energy projects:
The Royal Decree 1028/2007 establishes the administrative procedure for processing applications for electricity generating facilities in territorial waters. Although it focuses on offshore wind, it also includes electricity generation from other marine renewable technologies;

Law 2/2013, of 29 May, for protection and sustainable use of coastal and amending the previous Coastal Law of 1988. It provides the legal framework for occupation of the territorial sea, as well as governing issues affecting the fishing sector and safety conditions for maritime navigation;

Law 21/2013, of 9 December, establishes a simplified process on Environmental Impact Assessment for all marine energy projects.
MARKET INCENTIVES

There are no specific market incentives for ocean energy in Spain but for renewable energy installations in general.

PUBLIC FUNDING PROGRAMMES
There are several national and regional funding programmes to support R&D and demonstration projects in Spain but most of them are no specific for ocean energy. The only two programmes focused on ocean energy are:
OCEANERA-NET COFUND is an initiative of eight national and regional government agencies from six European countries, which has received funding from the European Union under the Horizon 2020 Programme for Research and Innovation. The participating countries/regions are: the Basque Country, Brittany, Ireland, Pays de la Loire, Portugal, Scotland, Spain and Sweden. The aim is to coordinate support for research and development in ocean energy, to encourage collaborative projects that tackle some of the key challenges identified for the sector as it progresses towards commercialisation. The project launched the first co-funded call during 2017 and approved projects started in 2018;

The Basque Energy Agency (EVE) launched a new call of its "Demonstration and validation of emerging marine renewable energy technologies" programme in 2018. As previous calls, the programme has a budget of €2,5 million for a maximum of 3-year duration projects.

RESEARCH & DEVELOPMENT
OPERA project
, funded under the H2020 programme and coordinated by TECNALIA, continues making good progress. 2018 saw the finalization of the bi-radial turbine tests at Mutriku Wave Power Plant and the implementation of that turbine in the MARMOK-A-5 device which was towed back to BiMEP site in October 2018. In addition, a sophisticated new type of mooring rope – elastomeric mooring tethers- was successfully deployed marking a significant new milestone for the project. More information on website:
http://opera-h2020.eu

OCEANERA-NET funded projects with Basque participation:
TECNALIA led a consortium with other partners from Spain (Zunibal, Ditrel and Basque Energy Cluster), Portugal (WavEC), Ireland (Smartbay) and UK (ORE Catapult). The so called RECODE project, which came to an end in December 2018, developed and tested cost-effective components specifically designed for reliable and sustainable delivery of ocean energy. These components comprise a safety monitoring and control device, a wave measurement buoy, an umbilical cable monitoring device and an underwater device-to-cable connector for a floating energy converter;

IK4-Azterlan, IK4-Gaiker and Mikra Recubrimientos S.L. are working together with RISE Institutes Innventia, REPOL, WavEC, CorPower Ocean AB and Skandivavisk Ytförädling on the OCEANIC project focused on the development of corrosion and fouling resistant coatings for ocean energy structures, which are being tested at BiMEP open sea test facility.
2018 brought the launch of the second and third calls for trans-national access to European offshore renewable energy test facilities within the MARINET2 project. This project, funded by the European Commission under the Research Infrastructure section of H2020, has the participation of 7 Spanish partners: BiMEP, CENER, CTC, EVE, IH Cantabria, PLOCAN and TECNALIA being the Marine Corrosion Test Site "El Bocal" of CTC one of the most required test facilities so far.

WESE is an EASME project that will collect and process environmental data from three wave energy devices installed in Spain and Portugal in order to improve the modeling capabilities, develop a licensing guide and facilitate the selection of possible locations for the implementation of this type of technology.

TRLplus is a Retos Colaboración project approved by the Spanish Ministry of Science, Innovation and Universities that aims to create innovative and highly competitive services to boost the offshore energy sector to the future market, supporting developers and side industry involved during the whole life cycle of an offshore farm.

NESSIE project searches innovative corrosion solutions and new materials in wave, tidal and offshore wind energy sectors through (i) technology roadmap and new materials (ii) supply chain analysis (iii) supporting consortia in scoping and developing demo, bankable projects. The Basque Energy Cluster and Fundación Asturiana de la Energía are working together with the Scottish Enterprise, ASTER – Società Consortile per Azioni, Sirris, Svenskt Marintekniskt Forum, The University of Edinburgh and
Lombardy Energy Cleantech Cluster.

The project ORPHEO (2016-2018) awarded by the Spanish Ministry of Economy and Competitiveness to analyse the profitability of hybrid floating platforms to harness the wind and wave energy has continued with the activity approaching the objectives planned for 2018. This project consortium is composed by INGETEAM, ENEROCEAN, University of Cadiz, University of Malaga and PLOCAN

TECHNOLOGY DEMONSTRATION

PROJECTS IN THE WATER


BiMEP is an open sea test area located off the coast of Armintza, in the province of Bizkaia. Operating since June 2015, BiMEP offers technology developers an offshore area with suitable wave and wind resources, thereby enabling the demonstration and validation of the technical and economic viability of different concepts of energy converters, equipment and materials prior to commercial development.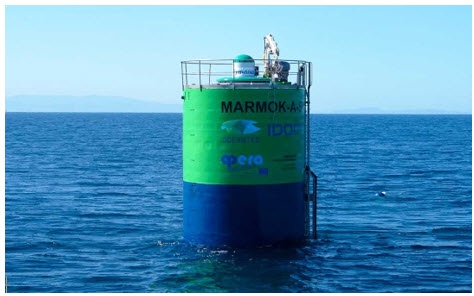 MARMOK-A-5 device deployed by IDOM at BIMEP after refitting with OPERA innovations
BIMEP hosts the first floating wave energy device connected to the grid in Spain. The so called MARMOK-A-5 device developed by OCEANTEC (acquired by IDOM in September 2018) was initially installed in 2016.
After surviving two winters, the device was towed in for refitting and integration of the different innovations that have been developed in the OPERA project.
In October 2018, the device was returned to it mooring site at BIMEP to collect more data for benchmarking.
Other test campaigns were carried out at BiMEP in 2018:
the oceanographic buoy ANTEIA, developed by the company ZUNIBAL, has been tested at BIMEP obtaining very good results to collect, in real time, height, direction and period data, as well as the water temperature;

IK4-AZTERLAN and TECNALIA also developed some material tests, the former under the OCEANIC project funded by OCEANERA-NET.

PLOCAN offers a test site for marine energy converters among other uses. It includes an offshore multipurpose platform providing workshops, laboratories, classrooms, training rooms and open working areas around a test tank to facilitate sea trials and launching vehicle to the sea.The installation of two submarine cables (5 MW/13,2 kV) started in 2017 and was commissioned during 2018. They are expected to be grid connected in 2019. Some testing developed during 2018: TORGUER POWER (Norwish water pumping device)

Mutriku Wave Power Plant is the first multi-turbine wave energy facility in the world. It is integrated with the breakwater of Mutriku (Basque Country) and based on the OWC (Oscillating Water Column) principle. It has 16 air chambers and 16 sets of "Wells turbines + electrical generator" of 18.5 kW each. The plant was connected to the grid in July 2011, reaching a record of cumulative energy from waves powered to the grid of some 1.77 GWh. Two of the air chambers are prepared to test OWC components (air turbines, electrical generators, power converters and control systems). Until August 2018, the Portuguese company Kymaner continued testing its bi-radial air turbine. This novel turbine was completely designed and manufactured in Portugal, with a total investment value of circa €1 million, and represents the culmination of the development of a patent originated in IST- Instituto Superior Técnico, protected in several countries interested in wave energy. The turbine prototype has been specifically developed and tested under the EU project OPERA. Mutriku wave power plant has also adapted its premises to better host technology developers during their tests.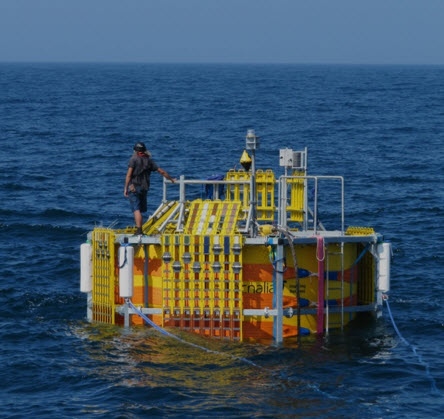 HarshLab deployed by TECNALIA at BIMEP during an inspection
HarshLab is an advanced floating laboratory for the evaluation of standardized probes and components in an offshore environment developed by TECNALIA. It is suitable to test new materials and solutions against corrosion, ageing and fouling in real and monitored conditions.
The first version of HarshLab was installed at BIMEP in September 2018. It can handle up to 125 samples in atmospheric zone, 320 in splash and 320 in immersion (765 probes in total).
TECNALIA is working on a second version with more functionalities for testing components and subsystems applicable to offshore technologies, including ocean energy.
WEP+, Ocean ERANET Cofund project, continuation of UNDIGEN and UNDIGEN+ Project, is a wave energy conversion demonstration project based on the industrial scale W1 (WEC by Wedge technology), accumulating roughly 4 years of testing at PLOCAN on the Canary Islands. The W1 system configures itself as an axisymmetric resonant point absorber with an innovative direct drive power take-off (linear generator).
Wedge Global, jointly with CTC and DEGIMA has also been developing SMARTWEC Project, aiming at optimizing wave energy converters point absorber type by increasing offshore reliability and energy output.
LifeDemoWave is a wave project developed in Galicia. Funded by the European Commission (LIFE+), the main objective of LifeDemoWave project is the demonstration of the feasibility of the use of wave power for electric generation in order to reduce greenhouse gas emissions. For demonstration purposes, a prototype of wave power generation and two different PTO to test, 25 kW each, have been developed and installed in the Galician coast (2 PTO to be sequentially tested in one hull). The prototype was deployed in June 2018 for a no grid connected test.
6 Spanish entities take part on this project: Quantum Innovative, Universidad de Vigo, CETMAR, Hercules Control, ACSM, and Grupo JOSMAR.
Galicia-based Magallanes Renovables has been tested its 2 MW floating platform for tidal energy at EMEC in Scotland to validate the technology, study O&M costs and approach the market.

BLUEGIFT is a project approved by Interreg Atlantic Arc which will implement a coordinated ocean energy technology demonstration programme that encourages longer term demonstration and technology de-risking across the Atlantic Arc regions.

PLANNED DEPLOYMENTS
Projects under development planned to be soon deployed in the sea:
ARRECIFE plans to test its first AT-0 1:2 scale prototype at BiMEP during the summer of 2019. This test will serve to perform the first validation tests with a system without connecting to the grid. ARRECIFE technology is a floating system similar to a catamaran or trimaran that uses a series of turbines to transform wave energy.
The system is designed to work optimally with wave heights of 1 to 5 m in height and is scalable and modular for different power capacities adding more rows of turbines or combining several modules.
ARRECIFE also incorporates an immersion mechanism that is activated when the waves exceed 5 meters in height, ensuring the ability to survive during storms or adverse conditions of wind and sea.

OTHER RELEVANT NATIONAL EVENTS
The Wave Energy Basque Country group supported the organization of the Ocean Energy Europe 2018 conference in Edinburgh with a gold sponsorship.

The Basque Country, through EVE – Basque Energy Agency - entered the SET-Plan Ocean Energy – Implementation Plan (IP) group. This Implementation Plan was adopted by the SET-Plan Steering Committee on 21 March 2018.

In September 2018, IDOM CONSULTING, ENGINEERING, ARCHITECTURE, S.A.U. completed the takeover of OCEANTEC, including 100% of staff and key assets like the MARMOK-A-5 prototype deployed in BIMEP. IDOM has stated it will continue with the Oceantec's activities as well as its commitment to fulfil all the R&D projects formerly involving OCEANTEC.

The Master in Renewable Energy in the Marine Environment (REM) is an Erasmus Mundus Joint Master Degree (EMJMD) offered by four universities: University of the Basque Country, University of Strathclyde, Norwegian University of Science and Technology and École Centrale de Nantes.These partner universities jointly engage in the overall execution and development of the Master. Each centre is responsible for the operation of the programme at its own institution. The Master is co-funded by the Erasmus+ Programme of the European Union.

The Basque Government took over the presidency of the Marine Renewable Energy working group of the Atlantic Arc Commission in 2017. The creation of this group is the result of the growing interest for MRE in the Atlantic.

EVE, TECNALIA and BEC (Bilbao Exhibition Centre) worked during 2018 with the Basque Energy Cluster on the organisation of the fourth edition of Marine Energy Week as part of a wider maritime event "World Maritime Week", which will take place in Bilbao in February 2019.
.
MARINE SPATIAL PLANNING POLICY
There is no specific Marine Spatial Planning (MSP) policy.
Pre-selected areas for ocean energy development have not been defined. Site selection is carried out on a case-by-case analysis. In the Basque country, in the case of Biscay Marine Energy Platform (BIMEP), a MSP approach was used for selecting the site.
AUTHORITIES INVOLVED
The authorities involved in the consenting process are:
• The Ministry of Agriculture, Food and Environment, through the Coasts Directorate-General – is in charge of the authorizations and concessions regarding the occupation of maritime-terrestrial areas. This ministry will also act as the decision making body for all the environmental aspects;
• The Ministry of Development, through the Merchant Navy Directorate-General – authorizes the precise activities when they affect maritime safety, navigation and human life at sea;
• In case of public ports occupation, the competent port authority shall grant authorization or concession;
• Regional governments can participate in the process depending on their competences. In particular, regional governments (there are 17 in Spain) are the decision-making bodies when the site is in internal sea areas (i.e. sea areas lying between two capes).
CONSENTING PROCESS
The total time needed to obtain approval is approximately two years but this timeframe varies between projects.
For instance, consenting of BIMEP started in July 2008 and ended in 2012 with the concession of marine-terrestrial public domain and the authorization for project execution. In contrast, the consenting of the Mutriku wave power plant took less than two years as it is located onshore and consequently was subject to the consenting process applicable for an 'ordinary' renewable energy plant. The reason for such time variability to obtain the final consent is attributed to whether an Environmental Impact Assessment (EIA) is required or not.
The new EIA law in Spain since 2013 aims to reduce the time scale needed for obtaining the Environmental Authorization, establishing a time period of no more than 4 months, or 6 months if there are justified reasons, thus reducing significantly the time needed for this consenting process which was about 3 to 24 months according to the previous law from 2008.
The Ministry of Industry, Tourism and Commerce, through the Energy Policy and Mines Directorate-General, is the decision-making body and it is responsible for granting the administrative authorization. However, in practice, there are more bodies involved in the process and developers need to deal with them.
ENVIRONMENTAL IMPACT ASSESSMENT
An EIA is assessed on a case-by-case basis.
According to Law 21/2013, of 9 December, all projects devoted to the production of energy on the marine environment are subject to be evaluated through a simplified environmental impact assessment process. The entity responsible for the decision on whether an EIA is required or not is the Ministry of Agriculture, Food and Environment.
There are not too many experiences related with EIA baseline and post-monitoring steps. The most interesting case can be BIMEP where an environmental monitoring plan was carried out. For example, this included monitoring activities during the installation of the electrical cables.
LEGISLATION AND REGULATION
In Spain, no dedicated consenting process exists ocean energy technologies.
The consenting process is based on three main legal instruments that are briefly outlined here.
• Royal Decree 1028/2007, of 20 July – establishes the administrative procedure for processing applications for electricity generating facilities in territorial waters. Although it focuses on offshore wind, it also includes electricity generation from other marine renewable technologies (Article 32). This Decree foresees a simplified procedure governed by Royal Decree 1955/2000, of 1 December, which provides that construction, extension, modification and exploitation of all electric installations listed (in Article 111) require the following administrative procedures and sanctions to be followed:
- Request for Administrative Authorization (AA) – refers to the project's draft installation plan as a technical document;
- Project Execution Approval (AEP) – refers to the commissioning of the specific project and allows the applicant to start construction;
- Exploitation Authorization (EA) – allows the installations, once the project is installed, to be powered up and proceed to commercial exploitation.
• Law 21/2013, of 9 December, on Environmental Impact Assessment;
• Law 2/2013, of 29 May, for protection and sustainable coastal use and amending the previous Coastal Law of 1998. It provides the legal framework for occupation of the territorial sea, as well as governing issues affecting the fishing sector and safety conditions for maritime navigation. Management and surveillance competences relating to the Public Maritime Domain on Land (MTPD), which includes the territorial sea, rest with the General Council on Coast and Ocean Sustainability which forms part of the Ministry of rural, Marine and Natural Environment. Coastal Demarcation Departments are their representatives in each coastal province and Autonomous Community. Therefore, the development of electric power projects in the territorial sea must comply with the legal requirements governing the administrative process for granting titles to territorial occupation (prior to and during the project development) and associated arrangements (e.g. deadlines, transfers and expiry.
Legislation and regulation that have been adapted to better suit ocean energy:
• The new law for EIA substantially reduces the time for obtaining the Environmental Impact Authorization;
• Royal Decree 1028/2007 – it is simplified for ocean energy since a competitive procedure between promoters (which applied for offshore wind) is not considered for ocean energy.
CONSULTATION
Consultation is usually required as part of the legal licensing process. It is usually made after the Environmental Impact Statement is delivered to the authorities for approval.
Advices are asked by the licensing authority to a number of statutory consultees namely Institute of Nature Conservation, port authorities and a number of public authorities responsible for marine resources management.
There are informal consultation activities implemented during the licensing process: usually developers prepare a number of informal public events to disseminate the project and collect the public feed-back on their activities at sea.
GUIDANCE AND ADVICE
It is clear to applicants what permits are required, in what order and what information must be supplied at what time, but no specific guideline (single document) is available for developers.
TEST CENTERS
Deployment at Bimep is already pre-consented so developers do not have to submit a full application comprising all the typical consents providing certain initial conditions are met.