INTRODUCTORY NOTE

During 2016, the Swedish Energy Agency held the 30th OES Executive Committee Meeting. In conjunction with this an ocean energy conference was held with both international and Swedish participants.
During the year, a second call for funding ocean energy projects has been carried out for both the European cooperation OCEANERA-Net and the national programme Marine Energy Conversion. The Swedish wave power company CorPower together with partners has also received funding from the European Commission for improving reliability and performance of novel direct drive PTOs.
NATIONAL STRATEGY AND TARGETS
The Swedish energy policy is based on the same foundations as energy cooperation in the European Union (EU) and seeks to reconcile environmental sustainability, competitiveness and security of supply. In 2016, the Government, together with several other political parties, agreed on a long-term energy policy for Sweden. The agreement includes a goal that by 2040 Sweden will have 100 percent renewable electricity production. Further on, by 2045, there will be no net emissions of greenhouse gases in the atmosphere.
In 2015, the Ministry of Enterprises, Energy and Communications finished their work on a national maritime strategy which has identified areas where actions are needed in order to promote a sustainable development in the Swedish maritime sector. Ocean energy is one of many areas which are included.

MARKET INCENTIVES
Fundamental to the long-term Swedish energy policy are general economic policy instruments such as carbon tax, international emissions trading and tradable certificates for renewable electricity. From the perspective of ocean energy technology development, the renewable electricity certificate system (a tradable green certificate system) is the most relevant policy instrument.
The electricity certificate system is a market-based support system for cost-effective expansion of electricity production from renewable sources. By design, the system does not specifically target a particular renewable electricity conversion technology, i.e. is technology neutral. Electricity certificates are issued to those who produce electricity from one or more renewable energy sources, or from peat, and who have had their production plants approved by the Swedish Energy Agency. To date, certificates have been issued to producers of electricity from biofuels and peat, wind power, hydro power and solar electricity.
In 2011, Sweden and Norway entered into an agreement to form a joint electricity certificate market, which has been in operation since the beginning of 2012. Together with Norway, annual production from renewable sources in 2020 shall have increased by 28,4 TWh relative to production in 2012. In the agreement made in 2016 of the long-term energy policy for Sweden it was decided that the electricity certificate system will be prolonged to 2030 and with additional 18 TWh of renewable electricity.

PUBLIC FUNDING PROGRAMMES
The main public funding mechanism for research, business and technology development and technology demonstration are Swedish governmental agencies tasked to support academic and private sector R&D in the various stages of innovation There are a number of governmental agencies from which researchers and developers can apply for funding.
The Swedish Energy Agency, www.energimyndigheten.se, is the Swedish agency responsible for facilitating a sustainable energy system in Sweden. As such, the agency funds research, business and technology development and technology demonstration which is relevant for the sustainability of the energy system and the sustainability of the energy industry sectors.

The Swedish Research Council, www.vr.se, which, among other things, is tasked to fund fundamental research and expensive equipment for research purposes within a large number of topic areas.

The Swedish Governmental Agency for Innovation Systems (VINNOVA), www.vinnova.se, supports business and technology development In addition, regional authorities are able to grant funding to varying extents.
In the beginning of 2015, the Swedish Energy Agency started a national ocean energy programme that will run for four years with a total budget of around €5,7 million (53 MSEK). The aim is to strengthen the research and development being done in the area and increase the cooperation between and within academia and industry. A total of 16 projects have been approved for funding within the programme. The programme will now be evaluated before any new calls. In parallel, there is ongoing work with a strategy for research and support to marine energy that will be used by the Swedish Energy Agency.
The Swedish Energy Agency is also involved in OCEANERA-Net, which is a collaboration between national/regional funding organisations and EU to support the ocean energy sector and fund transnational projects.

RESEARCH & DEVELOPMENT
Swedish companies, universities and institutes have been involved with several research and development projects during 2016. Below are just a few examples of these R&D projects:

WAVEBOOST
Participants: CorPower Ocean AB, EDP Innovation, EMEC, University of Edinburgh, WavEC, SP, GS Hydro and PMC cylinders
The project, that has received funding from the European Commission, focus on reliability and performance of novel direct drive PTOs. The efforts are expected to increase energy production, reduce CAPEX and improve grid integration of wave energy farms, resulting in a reduction in the cost of energy of up to 30 percent.

PREDICTION AND MITIGATION OF SNAP LOADS IN MOORING LINES
Participants: Chalmers University of Technology, CorPower Ocean AB, Seaflex Energy Systems AB
The project deals with the problem of snap loads in mooring cables of floating wave energy converters. New numerical methods for snap load propagation will be developed and used to assess snap load probability and magnitude in existing mooring design types. In particular, the snap load mitigating effect of the Seaflex® mooring material will be studied. The project will further design and develop a new solution for snap elimination in tension leg mooring systems. The solution will be specifically tailored for mooring the CorPower Ocean buoy, but it has potential use also for tension leg platforms for floating wind energy and other WECs. Field measurements and laboratory testing of the mooring response will be used to validate the numerical method and act as input to an optimisation of the design.

A NEW GENERATION OF PERMANENT MAGNET GENERATORS FOR MARINE ENERGY CONVERSION
Participants: Uppsala University, Seabased AB, Fortum Power and Heat AB
The project aims at using scientific methods to improve the design of slow moving, permanent magnet generators for marine energy conversion. The goal is to develop generators that have better performance, reduced cost, increased reliability, improved reproducibility and are more environmental friendly.

KITE FLIGHT: OPTIMIZATION OF OCEAN BASED POWER PLANTS
Participants: University of Gothenburg, Chalmers University of Technology, Minesto AB
All large scale flows in the ocean and atmosphere are fully turbulent, and tidal currents are no exception. The small scale variability connected to turbulence is an important factor to consider when designing equipment to work in a turbulent tidal current. In the present project, state-of-the-art numerical models are considered (belonging to the class of Large Eddy Simulation, or LES models) to quantify the turbulence levels in a realistic tidal flow situation. The target area is Holyhead Deep outside Wales. Turbulence levels in an ordinary tidal cycle as well as the case with an embedded tidal power plant will be considered, here the levels of added turbulence is targeted as well as its decay downstream. Together with the company MINESTO they will also evaluate the impact of the natural turbulence on the Deep Green Technology developed by the company.

MAPPING OF OPPORTUNITIES FOR OFFSHORE WAVE ENERGY CONVERSION IN THE SWEDISH EXCLUSIVE ECONOMIC ZONE
Participants: Uppsala University, Geological Survey of Sweden, IVL Swedish Environmental Research Institute
In a new research project, Uppsala University and partners will study a variety of meteorological and geological variables of relevance to the establishment and operation of offshore wave energy conversion systems of point absorber type for high resolution mapping in the Swedish exclusive economic zone. Parameters to be studied include wave climate, seasonal ice conditions, water level fluctuations, sea depths and conditions on the seabed, surface current influence on drifting ice, regional environmental factors, protected and regulated areas, waterways, among other things. The technical wave energy potential will be predicted in various scenarios established through large park simulations of generic wave energy units of point absorber type through validated time domain models developed at Uppsala University. The most favourable zones for establishment of pilot sites with respect to the studied variables and simulated results will be identified and classified.

DEVELOPMENT OF A DURABLE WINCH SYSTEM FOR WAVE POWER
Participant: Royal Institute of Technology
The project aims to develop a rotating PTO system with a winch based solution. The focus is to develop the winch that has a much longer lifetime than ordinary chains.

COST EFFICIENCY OF MARINE POWER PLANTS
Participants: SSPA, Minesto AB, Moorlink Solutions AB
The project includes the development of the Minesto system with respect to: a) Design Optimization of control surfaces – rudders, b) Full scale effects going from ¼-scale to full scale, and c) Anchorage system.

TECHNOLOGY DEMONSTRATION


OPEN SEA TEST SITES
The Lysekil wave energy research test site: The wave energy research group at Uppsala University tests full scale devices and technology solutions at a research test site outside the town Lysekil at the west coast of Sweden. At the site, not only the wave energy technology is studied, but also how a wave energy park may influence the local marine environment. A Datawell Waverider wave measuring buoy was installed in 2004 and measures the waves at the site continuously. The first full scale wave energy device was installed in 2006. Since then, a large number of wave energy generators, buoys, marine substations and various wave energy technologies have been deployed and studied in a long series of experiments at the site. The test site has been grid connected since November 2015.


OPERATIONAL PROJECTS
The only projects executed in Sweden and operational are the Lysekil wave power project, Söderfors marine current project and Sotenäs project.
Lysekil wave power site and Söderfors marine current site are operated by Uppsala University. At the Lysekil site preparations have been made during 2016 for next year´s grid connection of three wave energy converters. If successful, it will be the first time the group has an array of wave energy converters connected to the grid. Environmental studies have also been completed including measuring and tagging of crustaceans at the wave power test area and control areas and status of colonization of fish and crabs. Further on, an active acoustic system for subsea environmental monitoring of marine energy technologies and farms has been tested.
At Söderfors site, the turbine blades have been changed during 2016 and the vertical marine current converter has been grid connected.
The Sotenäs Project was initiated in November 2011 and 36 wave energy converters (corresponding to 3 MW) has been deployed along with the subsea generator switchgear. The wave power plant was initially grid connected in January 2016. The Sotenäs Project is funded by the Swedish Energy Agency, the power company Fortum and by Seabased Industry AB. The technology is based on a point absorber connected to a linear generator on the sea bed.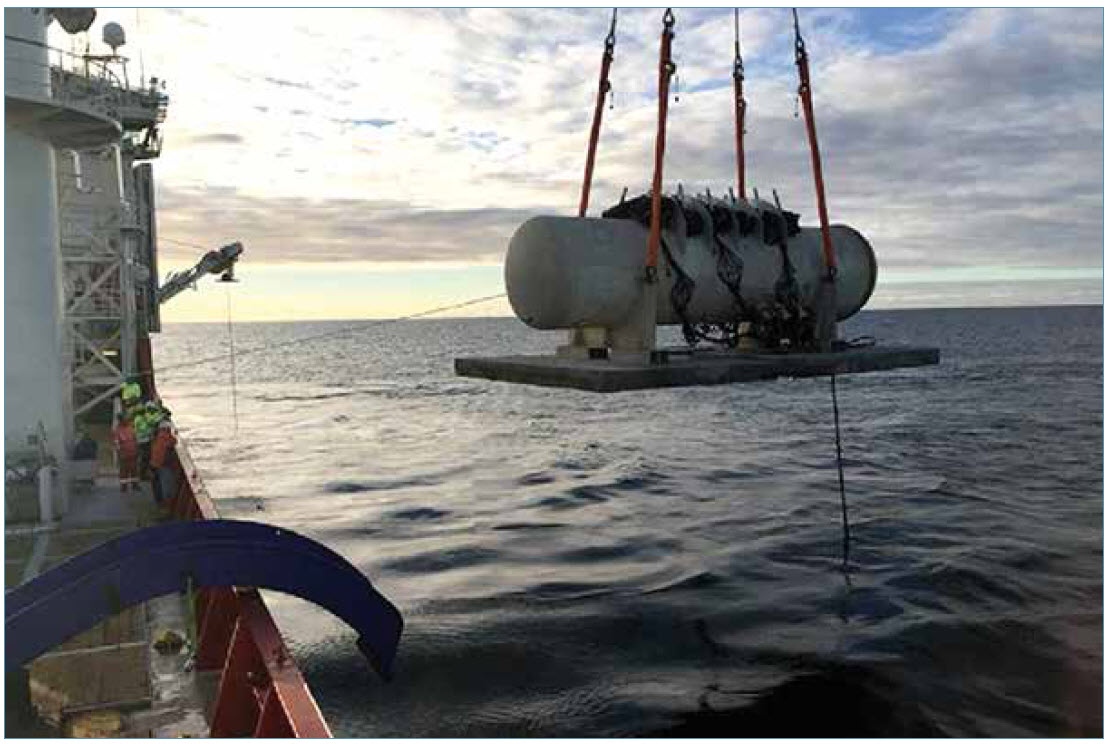 Deployment of the low voltage marine substation in the Sotenäs project
Waves4Power is another Swedish company demonstrating one full scale wave power device at sea; however the demonstration takes place in Runde, in Norway. Grid connection is planned to be completed in 2017.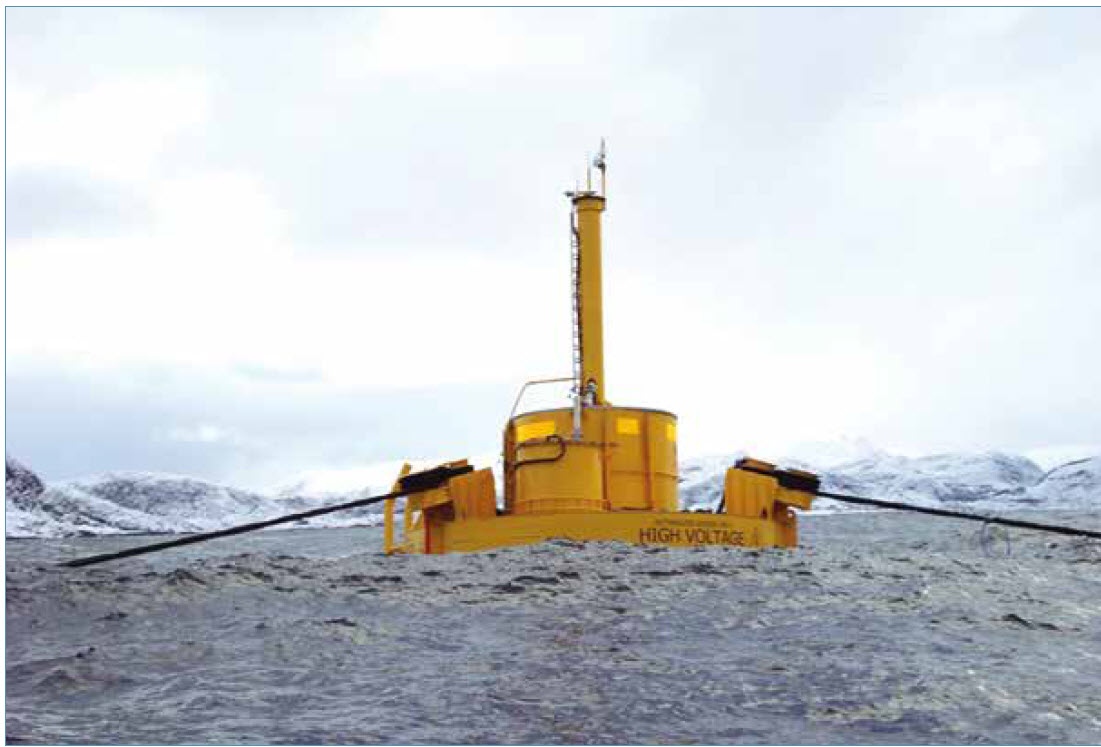 Waves4Powers buoy demonstrated in Runde, Norway
PLANNED DEPLOYMENTS
The deployments that are planned in the near future will take place outside Sweden:
Minesto develops a technology called Deep Green that can produce electricity from low velocity tidal and ocean currents. The technology has been tested with scale model prototypes at the company's test and demonstration facilities in Strangford Lough, Northern Ireland, since 2011. This testing has been successfully continued during 2016, as Minesto demonstrated test results which surpassed noted maximum levels of electricity generation. During the year, great progress has been made in design and control system.
In 2017, Minesto plans to build and commission the first demonstrator of the Deep Green technology at commercial scale. The device will be installed at Minesto's site in Holyhead Deep, some 8 km outside the coast of northern Wales.
In Holyhead Deep, for which Minesto holds an Agreement for Lease from the Crown Estate, the company will gradually expand installed capacity to a 10MW commercial array (20 Deep Green units). Minesto has received funding from KIC Innoenergy and European Regional Development Fund through the Welsh Government.
CorPower Ocean develops compact high efficiency Wave Energy Converters, inspired by the pumping principles of the human heart. The company is headquartered in Stockholm, with activities in Sweden, UK, Norway and Portugal.
CorPower Ocean is currently performing its Stage 3 pilot programme. This entails taking a 1:2 scale Wave Energy Converter through the next step of structured verification by dry testing it in a Hardware-in-the-loop rig in Stockholm from late 2016 until mid-2017, followed by wet testing at EMECs Scapa Flow nursery site in Orkney, Scotland, through 2017.
The project is funded by the Swedish Energy Agency, KIC Innoenergy, and Wave Energy Scotland. CorPower has also received funding through ForeSea, an Interreg project by the European Commission for an extended period of ocean testing. Stage 3 development and verification activities are supported by best practice from the European Marine Energy Centre (EMEC) in Orkney, alongside the experience from offshore power generation company Iberdrola Engineering and EDP, the University of Edinburgh, NTNU, in Trondheim, and WavEC Offshore Renewables in Lisbon.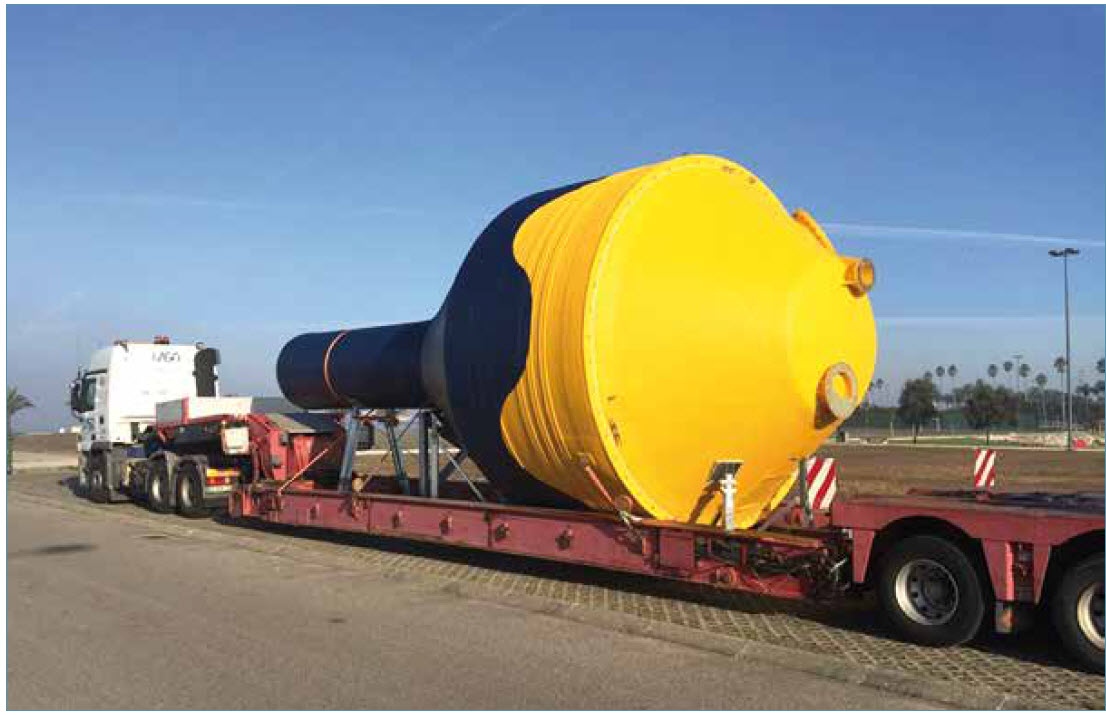 Stage 3 of CorPower's device (in composite hull)
Seabased has signed a contract for a wave energy park in Ghana.

The Ada Project in Ghana was initiated in November 2014 and the first wave energy converters and switchgear have been delivered to Ghana and are under installation.

The wave power plant is the first step in a facility that when completed is planned to reach 200 MW.

OTHER RELEVANT NATIONAL ACTIVITIES

In May 2016, the Swedish Energy Agency arranged the 30th OES ExCo Meeting. In conjunction with this, an ocean energy conference has also been held with both Swedish and international participants from OES, OCEANERA-Net and Ocean Energy Forum. The conference covered, amongst others, presentations and discussions on challenges and solutions for ocean energy and gave input to the Strategy for Marine Energy for the Swedish Energy Agency.
StandUp for Energy is a research alliance between Uppsala University, KTH, Swedish University of Agricultural Sciences and Luleå University of Technology, focusing on areas such as renewable energy production (marine energy included), electricity grid, electric and hybrid vehicles and energy system. Conferences are held twice a year and are attended by companies and policy makers.
Swedish Maritime Day, which is held every year, gathers stakeholders from academy, industry and the public sector. The conference is not only focused on offshore energy but also in areas like shipping, biotechnology, marine environment etc.
In the beginning of 2017, the new dry testing facility of CorPower will be inaugurated in Stockholm, combined with a scientific programme involving presentations from leading European research groups.
MARINE SPATIAL PLANNING POLICY
New Swedish legislation on Marine Spatial Planning (MSP) is in force from 1 September 2014.
The Swedish Agency for Marine and Water Management is preparing the forthcoming national marine spatial plans.
There are no pre-selected areas for oceans energy. Instead, there are national interest areas for offshore wind. Within areas of national interest, it is not allowed to undertake activities that can seriously harm the designated values or undertake activities that significantly complicate the intended use of the area.
AUTHORITIES INVOLVED
Permits according to the environmental code are granted by the Environmental Courts with the input from the County Administrative Boards. Ocean energy projects may also need consent regarding the continental shelf act. These applications are handled by County Administrative Board.
CONSENTING PROCESS
The local County Administrative Board should be contacted and informed in the beginning of the process.
A consultation will then be held between the County Administrative Board, the municipality environmental service committee and the person applying for permit.
At the consultation there will be discussions about the planned activity, environmental impact and the future process. After that a consultation will be held with others particularly affected by the plans. If the plans. If the plans are likely to have a significant environmental impact it is mandatory to have a bigger consultation with other authorities. The next step for the applicant is to prepare an Environmental Impact Assessment (EIA) and send together with the application to Environmental Court (this should be made within one year after the consultation or a new consultation might be needed). The Environmental Court will then decide if permit is given (supplementary information might be required before). A granted permit is in turn associated with conditions that must be met by the applicant. It is also possible that the Environmental Court determines different compensation measures like a fish fee.
Whether it is clear or not to applicants what permits are required, in what order and what information must be supplied at what time, depends on the applicant's experience of earlier consenting process.
There is no specific authority that manages the whole ocean energy consenting process ("one stop shop" facility or entity). Instead there are several authorities involved and they also manage other consenting processes.
ENVIRONMENTAL IMPACT ASSESSMENT
Currently an Environmental Impact Assessment (EIA) is always required.
However, the level of detail and scope of necessary investigations naturally varies depending on the character of the project. This legislation is currently under review and it is possible it will be altered. Permits usually contain conditions regarding monitoring the environmental effects of the project.
LEGISLATION AND REGULATION
The consenting process for ocean energy is regulated by the environmental legislation in the environmental code (miljӧbalken).
The environmental code is a framework legislation which contains certain special rules applicable to water-related activities. These provisions are however applicable not only to ocean energy but to dams, building bridges, traditional hydropower, etc. There are no special rules applicable only to ocean energy.
No legislation and regulation have been adapted to better suit ocean energy so far. Swedish water-law is currently being reviewed and it has been suggested that more water-related activities are made subject only to notification and not a full permit-process. However nothing has yet been decided.
CONSULTATION
A consultation is done early in the process. It is the applicant the entity responsible for its implementation and that it follows all rules.
In the first consultation with the authorities there will be discussions about the planned activity, environmental impact and the future process. In the next consultation others particularly affected by the plans will receive a written invitation. General organizations and public are invited through an ad in the newspaper. Discussions will be about the location, scale, design and environmental impact of the activity all well as content of the EIA. In case of a bigger consultation, the identified parties will receive a written invitation.
Statutory consultation is required with the County Administrative Board, municipality environment steering committee and others particularly affected by the plans. Of the plans are likely to have a significant environmental impact it is mandatory to have a bigger consultation.
GUIDANCE AND ADVICE
Information of the process is available on the homepages of the County Administrative Boards. The Swedish Energy Agency has also developed a website together with other government authorities which explains the consenting process for wind power plants, including offshore plants (only in Swedish). This site also includes web map service integrated with e-service for consenting applications.
TEST CENTERS
In both testing sites in Sweden, Lysekil wave power research site and Söderfors marine currents research site, there is no specific consenting process.