2016 has been another active year for the ocean energy sector in the United Kingdom (UK). Several significant and internationally relevant developments have been made across the wave, tidal stream and tidal range segments, while the political and regulatory setting for the sector has continued to evolve. The promise of ocean energy remains strong and there is potential for wave and tidal energy to contribute significantly to the UK's electricity supply in the run up to 2050, subject to reducing costs and achieving competitiveness with alternative technologies.

Wave
Following several years which have been characterised by retrenchment, the UK wave energy sector is refocussing and engaging in targeted research and development to optimise technologies and move towards convergence of design and commercialisation. This approach is epitomised by Wave Energy Scotland (WES), a Scottish government funded technology development programme which has so far awarded £15m to 51 technology development projects in the areas of power take-offs (PTOs), novel devices and structural materials & manufacturing processes.

Tidal Stream
The UK's tidal stream sector made significant progress towards commercialisation in 2016, with a number of turbine deployments including two at array scale. The MeyGen project in Scotland's Pentland Firth is close to completing construction of Phase 1A of the project, involving 4 turbines and a capacity of 6MW. Long-term plans for MeyGen allow for up to 398 MW within the next decade. Meanwhile, Nova Innovation began exporting power to the grid following the successful installation and operation of 2 turbines off the coast of Scotland's Shetland Isles. Following the award of funding under the European Union's Horizon 2020 programme, Nova intend to further develop the Shetland array in 2017.

Tidal Range
Policy in relation to tidal lagoons developed significantly in 2016 with a government commissioned review of the strategic role of tidal lagoons in the UK, led by former energy minister Charles Hendry. A final report was published in January 2017 and supports the development of tidal lagoons, highlighting the benefits of a "pathfinder" project ahead of a wider programme. A Government response to the Hendry Review is anticipated in due course. The proposed Swansea Bay tidal lagoon project continues to move through the consenting process with a view to begin construction in 2018.
SUPPORTING POLICIES ON OCEAN ENERGY
NATIONAL STRATEGY AND TARGETS
A restructuring of government departments in 2016 led to the Department for Energy and Climate Change (DECC) being absorbed into the new department for Business, Energy and Industrial Strategy (BEIS). BEIS retains overall responsibility for energy policy in the UK although many powers related to energy have been devolved to the governments of Scotland, Wales and Northern Ireland.
The UK government continues to offer revenue support to a variety of renewable energy technologies through the Contract for Difference (CfD) programme. Based on a "strike price", CfDs offer long-term price stabilisation and are awarded via competitive auctions. The next round of auctions, worth £290m per annum, will open in April 2017. Strike prices of £310/MWh for wave and £300/MWh for tidal stream are being mooted for projects due to deploy in 2021/22. However, bids for wave and tidal stream CfD allocations are made in competition with other "less established technologies" in a pot of that includes offshore wind and biomass.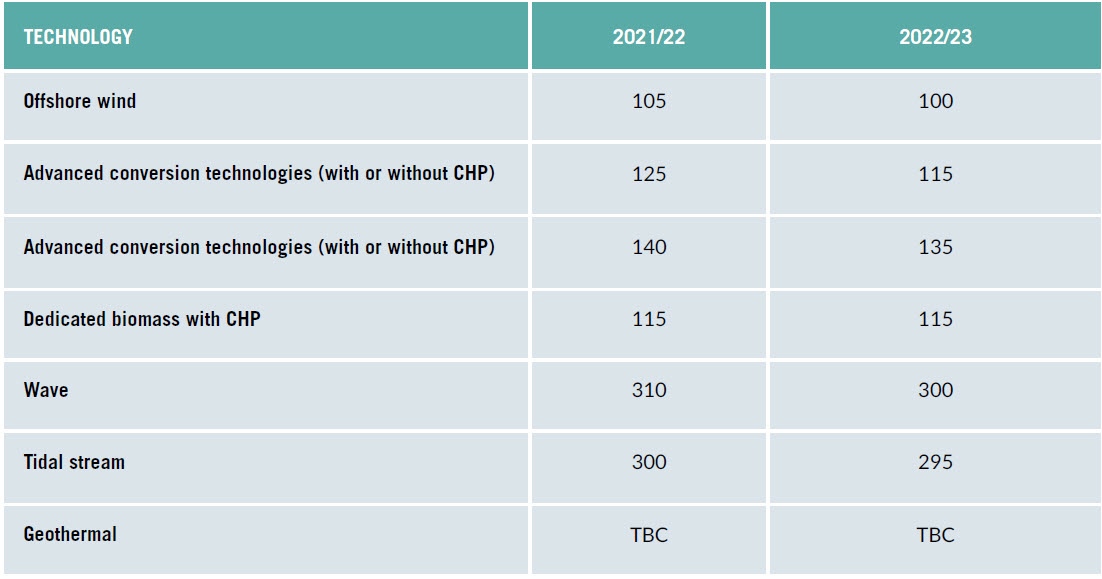 UK Contract for Difference for less established technologies: Draft strike prices (£/MWh)
Scotland
Scotland has tremendous wave and tidal energy resources (a third of the UK's tidal stream resources and two thirds of the UK's wave resources) and the potential exists to generate more electricity than needed from the waters around the Scottish coast.
The ocean energy sector in Scotland has progressed more in 2016 than in any previous year, with several world firsts achieved:
Edinburgh firm Nova Innovation has deployed the first two turbines of the Shetland Tidal Array and is exporting power to the Shetland grid;

Atlantis Resources Limited has almost completed construction of the first phase of the MeyGen project – the world's largest planned tidal stream array; and

Orkney-based Scotrenewables has begun testing the world's most powerful floating tidal turbine at the flagship European Marine Energy Centre.
The Scottish Government remains strongly committed to the development of a successful ocean power industry in Scotland and to maintaining the current strong lead in this area. The Scottish Government established Wave Energy Scotland (WES) in 2014 to support wave energy technology development. WES funds are committed through a series of strategically targeted innovation projects and research activities, securing intellectual property for the benefit of the industry and driving novel technology development. WES has developed a structured stage gate process for competitive development of wave technologies that provides developers with up to 100% funding through a procurement model.
The programme operates a framework for assessing the performance of technology against set standards and metrics to provide transparency and risk reduction. WES committed £12m in funding in 2016 and recently announced 10 awards totalling £3 million for structural materials and manufacturing processes projects. WES expects to run a further call for control systems in spring 2017. The Renewable Energy Investment Fund (REIF) – designed to help ocean energy projects take the leap towards commercialisation–has so far invested over £40 million in a range of innovative wave and tidal schemes.
There are, however, challenges ahead. The impact on the industry of exiting the EU is not yet clear, but it is known that the marine energy sector in Scotland has benefited significantly from EU funding, which is now in some doubt. Added to that, the UK Government's decision not to provide ring-fenced support for wave and tidal stream technologies in its subsidy scheme will have an impact on investor appetite and may reduce the attractiveness of the UK for marine energy developers. Scotland has worked collaboratively over the last year with its UK and European colleagues to identify and address the barriers facing the development of the ocean energy sector. This work was accomplished through active participation in a range of groups and workstreams, including the energy workstream of the British-Irish Council; the European Commission's Ocean Energy Forum; and through leadership of a Horizon 2020 Ocean ERA-NET Cofund. Scotland will continue to work closely with technology and project developers, the supply chain, academia and public sector partners to unlock the potential of the UK's marine energy industry.
Wales
The Welsh government remains in strong support of the ocean energy sector and spent 2016 putting in place several initiatives to support development of the sector. In addition to the positive message given by the Hendry review on tidal lagoons, Welsh government policies look set to promote the standing of the nation on the international ocean energy stage.
Over £1m has now been invested via the Marine Renewable Energy Strategic Framework which is carrying out largescale investigations in to the Welsh marine energy resource and the infrastructure requirements of ocean energy developments.
The Welsh government also regularly engages with the Crown Estate to improve access to maritime areas suitable for development. 2016 saw the renaming of Marine Energy Pembrokeshire to Marine Energy Wales. This Welsh government supported initiative is a partnership between developers, academia, the supply chain and the public sector with the aim of developing a Welsh marine energy centre of excellence. The organisation has developed closer links with Wave Hub through a management agreement for their proposed South Pembrokeshire Demonstration Zone.

Northern Ireland (NI)
DP Energy's Fairhead Tidal project continued to move through the survey and consenting phases of development in 2016 with the support of the Northern Irish Government. Regional development agency InvestNI continues to engage with the ocean energy sector with a particular focus on finding matches between the sector and the Northern Irish supply chain. The NI Department of Agriculture, Environment and Rural Affairs (DAERA) is working to develop a Marine Plan for NI, with the aim of guiding the regulation, management use and protection of maritime regions.

REGULATORY FRAMEWORK
The responsibilities previously held by DECC transferred to BEIS during 2016 while further work to devolve powers to the governments of Scotland, Wales and Northern Ireland went ahead. Perhaps most notably, the Crown Estate and UK and Scottish Governments are working to enable the transfer of The Crown Estate's management duties in Scotland to the Scottish Government, as recommended by the Smith Commission and reflected in the Scotland Act 2016. It is expected that discussions, including public consultation, will continue through the first half of 2017.
The Crown Estate in Scotland includes a diverse portfolio of property, rights and interests that influence many aspects of rural and coastal life in Scotland. The new functions being devolved include rights to the seabed and management rights over around half the foreshore of Scotland. Taking on the Crown Estate's role in the management of seabed rights out to 200 nautical miles around Scotland is also vitally important to being able to sustain the competitiveness of Scottish marine industries and to continue to derive wealth from the marine environment.
PUBLIC FUNDING PROGRAMMES
The Knowledge Transfer Network, operated by Innovate UK, maintains a wide-ranging and up-to-date listing of funding opportunities available in the UK. By far the majority of research and development funding for energy technologies can be found in this database, available at
https://www.ktn-uk.co.uk/
.
UK organisations which offer funding to ocean energy projects include:
Research Councils UK
The Research Councils UK Energy Programme provides funding for a wide range of technology areas, including marine, covering research and training. It brings together investments from across the UK research councils.
http://www.rcuk.ac.uk/research/xrcprogrammes/energy/
Innovate UK
Innovate UK is the UKs innovation agency and is an executive non-departmental body sponsored by BEIS. Innovate UK works with people, companies and partner organisations to find and drive the science and technology innovations that will grow the UK economy.
https://www.gov.uk/government/organisations/innovate-uk
Wave Energy Scotland
WES – fully funded by the Scottish Government – is taking an innovative and unique approach to the development of wave technology in a new research programme. WES will support wave energy technology development until the technical and commercial risks are low enough for private investment to re-enter the sector.
http://www.hie.co.uk/growth-sectors/energy/wave-energy-scotland/
RESEARCH & DEVELOPMENT

KEY R&D INSTITUTIONS AND RELEVANT R&D PROJECTS
KEY R&D INSTITUTIONS
The Offshore Renewable Energy Catapult (ORE Catapult)
The Offshore Renewable Energy (ORE) Catapult came into operation in 2013. It was established by Innovate UK to
accelerate the development of innovative technology that will lead to cost reductions in the offshore wind, wave and
tidal sectors. It is one of seven Catapult centres set up to bridge the gap between research and commercialisation in the
UK. By analysing and prioritising industry issues and by active involvement in current research developments, the ORE
Catapult will initiate programmes to accelerate the development of innovative engineering solutions.
Following the merger with the National Renewable Energy Centre (Narec), the ORE Catapult now offers an integrated
engineering, research and testing capability for the offshore renewable energy sector. Facilities include powertrain testing,
still water docks, simulated seabed, component testing, high voltage laboratory and wind turbine blade testing. ORE
Catapult participate in various wave and tidal stream related projects, such as looking at improvements to the reliability
of tidal turbine powertrains.
Supergen
The Supergen programme was set up in 2001 to deliver sustained and coordinated research on Sustainable PowER GENeration
and supply. The Supergen UK Centre for Marine Energy Research (UKCMER) entered its sixth year of operation
in 2016 and continued to coordinate UK research into wave and tidal energy technologies.
During 2016, a review of the Supergen programme by the Engineering and Physical Sciences Research Council (EPSRC)
concluded that, from mid-2017, the Wind and Marine hubs should be amalgamated in to a new Offshore Renewable
Energy hub, allowing for better identification of synergies between the sectors.
KEY R&D PROJECTS
DTOcean
The 3 year long DTOcean project came to a conclusion in 2016. DTOcean (Optimal Design Tools for Ocean Energy Arrays)
was a collaborative research and development project funded by the European Commission. It gathered 18 partner
organisations from 11 countries and was co-ordinated by the University of Edinburgh. DTOcean aims to accelerate the
industrial development of marine energy by creating software tools for the optimised design of first generation wave
and tidal energy converter arrays.
The complete DTOcean software package includes the following computational modules:
• Hydrodynamic Array Layout
• Electrical System Architecture
• Moorings & Foundations
• Array Installation
• Operations & Maintenance
155
Given a set of user inputs regarding the chosen wave or tidal energy converter and array location, DTOcean identifies
optimal layouts, components and procedures in each of the above modules. Optimality is established at array lifecycle
level, taking into account dependencies between each module, and is defined in terms of three key metrics: Levelised
Cost of Energy (LCoE); Reliability; and Environmental Impact.

TECHNOLOGY DEMONSTRATION

TEST SITES
The European Marine Energy Centre (EMEC)
EMEC is the only accredited wave and tidal test centre for ocean energy in the world, suitable for testing multiple technologies simultaneously in harsh weather conditions. The Centre offers two grid-connected test sites – one for tide and one for wave – and also has two scale test sites allowing smaller scale devices or those at an earlier stage of development to gain real sea experience.
2016 saw EMEC host more new demonstration projects, with 27 devices from 17 companies now having been tested on site. EMEC's alumni include the first tidal turbines at the MeyGen site from Atlantis and Andritz Hydro Hammerfest, as well as longest standing client OpenHydro installing a turbine in the Bay of Fundy (a scaled-up version of the 6m turbines they have been testing at EMEC since 2007). Scotrenewables' 550-tonne 2MW tidal turbine arrived at EMEC in 2016, as well as Sustainable Marine Energy (SME) who successfully installed four subsea drilled rock anchors at its Fall of Warness for their first PLAT-O system, which hosts two SCHOTTEL Instream Turbines (SIT).
One of the biggest EMEC projects starting in 2016 was the launch of FORESEA – a new €11m European programme to support open sea testing for ocean energy. Led by EMEC, the FORESEA (Funding Ocean Renewable Energy through Strategic European Action) project provides funding support to ocean energy technology developers to access Europe's world-leading ocean energy test facilities. The first call for applications was closed in September, with ten successful ocean energy developers announced.
Wave Hub
Wave Hub is a pre-installed grid connected site approximately 10 nautical miles (16 km) off the north coast of Cornwall for the testing of large scale offshore renewable energy devices. The site has a Section 36 electricity consent and holds a 25-year lease for 8 square kilometres of seabed divided into four separate berths. Wave Hub is owned by BEIS and operated by Wave Hub Limited.
In late 2016, Carnegie Clean Energy confirmed that it intends to develop a 15 MW array of the CETO 6 wave energy converter at the Wave Hub site. As work on this development ramps up, Wave Hub continues to focus on environmental survey and consenting work.

OPERATIONAL DEPLOYMENTS
MeyGen
The MeyGen array, operated by Atlantis Resources in Scotland's Pentland Firth, made significant construction progress in 2016. 2017 is due to be spent expanding the array to a capacity of 6 MW, thus completing phase 1A of the project. Full capacity across all phases is to be up to 398 MW.
Nova Innovation Shetland
Nova Innovation are currently exporting power from two turbines installed off the coast of Shetland in Scotland, with a third turbine due to go live in early 2017.

PLANNED DEPLOYMENTS
EMEC
Several wave and tidal developers (including CorPower, Laminaria, Tocardo Tidal Power and Nautricity) are due to run test and demonstration projects at EMEC in the course of 2017.

Fairhead Tidal
DP Energy continue to progress through planning and consenting processes with a view to install a tidal stream array at Fairhead in Northern Ireland. The first phase is to involve 4 to 6 turbines and up to 10 MW, while the full scale array is likely to be in the region of 100 MW capacity.
Scotrenewables Lashy Sound
Scotrenewables Tidal Power are applying for consent to deploy a 10 MW array at Lashy Sound in Orkney, Scotland. This array will make use of Scotrenewables' floating tidal turbine concept.
Swansea Bay Lagoon Tidal Lagoon Power Ltd. have plans to construct a 320 MW capacity tidal lagoon scheme in Swansea Bay, Wales. Consent was awarded in 2015 and the company plans for construction to begin in 2018.
Carnegie Wave Hub
Carnegie Clean Energy have entered an agreement to install a 15 MW array at the Wave Hub site in Cornwall, England, using their CETO 6 wave energy converter.
Tidal Power Scotland Ltd (TPSL)
Atlantis Resources is the majority owner of the TPSL holding company. TPSL holds the rights to develop several tidal energy projects in Scotland including Sound of Islay, Ness of Duncansby, Brough Ness and Mull of Galloway.

OTHER RELEVANT NATIONAL ACTIVITIES
International Conference on Ocean Energy (ICOE) – 23-25 February 2016, Edinburgh
MARINE SPATIAL PLANNING POLICY
Marine Spatial Planning (MSP) policy exists in UK but it is used as a decision making tool currently only in the East of England Inshore and Offshore areas.
An interactive tool – the Marine Information System - explains how marine plans apply to different marine sectors and geographic areas. It highlights policies that apply to a chosen area to inform plan users (available at: http://mis.marinemanagement.org.uk/).
Eleven marine plan areas will have a marine plan with a long-term (20 years) view of activities and will be reviewed every 3 years. There will be ten marine plans as the North West will have a single plan following requests to have a single process and one plan for these areas. All marine plan areas are scheduled to have a plan by 2021.
The Crown Estate carries out periodic tendering processes for wave/tidal areas. These areas are scoped and Strategic Environmental Assessments (SEA) carried out.
AUTHORITIES INVOLVED
The authorities involved in the consenting process are:
• Marine Management Organization (MMO);
• National Resources Wales (NRW).
In English and Welsh offshore waters, marine licenses, section 36/A consents, and safety zones are determined by the MMO. In Welsh inshore waters, marine licenses are determined by the NRW and section 36/A consents and safety zones by the MMO. Decommissioning of offshore renewable energy installations is regulated by the Department of Energy and Climate Change (DECC).
CONSENTING PROCESS
Main sequential steps (licenses, consents, permits) required to get permission for project deployment is presented in the following link:
https://www.gov.uk/planning-development/marine-licences.
ENVIRONMENTAL IMPACT ASSESSMENT
An Environmental Impact Assessment (EIA) is assessed on a case-by-case basis.
Assessment is based on the size, nature, and location of each proposal as directed by Annex II of the Marine Works (Environmental Impact Assessment) Regulations 2007 or Schedule II of the Electricity Works (Environmental Impact Assessment) (England and Wales) Regulations 2000.
The Marine Management Organization (MMO) is responsible for providing a decision on whether an EIA is required or the applicant can voluntarily opt in to the process.
The Environmental Statement (ES) will be submitted at the application stage for a marine license. However, draft ES chapters may be reviewed by the MMO and its technical advisors at the pre-application stage.
LEGISLATION AND REGULATION
Legislation and regulations related solely with the consenting process for ocean energy:
• The Electricity (Offshore Generating Stations) (Applications for Consent) Regulations 2006;
• The Electricity (Offshore Generating Stations) (Safety Zones) (Application Procedures and Control of Access) Regulations 2007;
• The Electricity Act 1989 (Requirement for Consent for Offshore Wind and Water Driven Generating Stations) Order 2011.
Legislation and regulation that has been adapted to better suit ocean energy:
• Electricity Act 1989 for section 36 consents and safety zones.
CONSULTATION
Consultation process is initiated after the initial checking of the application.
This is done primarily through the online portal Marine Case Management System (MCMS) but also by email to other consultees as appropriate.
There are statutory consultees stipulated in either the Marine and Coastal Act 2009, the Marine Works (Environmental Impact Assessment) Regulations 2007 or Electricity Works (Environmental Impact Assessment) (England and Wales) Regulations 2000. Consultation in taken on a case-by-case basis.
There are no informal consultation activities implemented during the licensing process.
GUIDANCE AND ADVICE
The MMO have a Key Performance Indicator (KPI) target of 13 weeks to make a determination on a marine license application from when it is received with us. There is no such KPI for 36 consents or safety zones.
Information about what permits are required, in what order and what information must be supplied at what time is available at a dedicated web link.
TEST CENTERS
Usually deployment in designated test centers are already pre-consented so developers do not have to submit a full application comprising all the typical consents providing certain initial conditions are met. This is the approach encouraged for applicants to adopt in order to streamline the consenting process for the deployment of demonstration devices.