Task 4 seeks to be the premier international program engaged in bringing together information and practitioners on environmental effects of ocean wave, tidal, and current energy development on the marine environment. It aims to facilitate efficient government oversight of the development of ocean energy systems by expanding our baseline knowledge of environmental effects and monitoring methods.
Supported by the online knowledge management system Tethys, developed by Pacific Northwest National Laboratory (PNNL) in USA, a commons is being created for Task 4 that facilitates the broadcast and archiving of webinars, expert forums, and workshops focused on important scientific issues that are critical to the siting and permitting (consenting) of marine energy devices worldwide.
Task 4 also plays a role in supporting the dissemination of information via international conferences and events, focusing on new environmental research and data on interactions among marine animals, habitats, and marine energy devices.

Next >
In the initial phase of this project (2010-2013) information from all participants was compiled and assessed from existing and proposed environmental monitoring studies, and from ongoing research studies. Monitoring protocols and results were documented in a prescribed report format and lessons learned were identified. This Task culminated in an accessible and searchable database.
The process was supported by experts from the participant countries and beyond, coming together in experts' workshops and providing input, advice and review of draft products throughout the process. Greater understanding of the environmental effects and monitoring methods related to ocean energy will foster public acceptance and help to advance ocean energy technology.
Phase 2 of this project (2013-2016) is characterized by the close involvement of an analyst from each of the member nations, nominated by his/her nation. Key tasks asked of each analyst include:

Reporting progress in marine energy development and environmental effects work within their respective countries;


Acting as an expert group for this project on direction for webinar, expert forum, and workshop topics;




Providing reviews of products, such as Tethys content and functionality;




Engaging in identifying experts (or participating directly) in preparing a State of the Science report in 2016;




Advising and participating in an international conference in 2015/2016; and




Acting as an ambassador for Annex IV in their respective country.
Next >
STATE OF THE SCIENCE REPORT
The culmination of Phase 2 of this project is the State of the Science Report which is now available. The report reviews all the major interactions that potentially place marine animals or habitats at risk from marine energy development.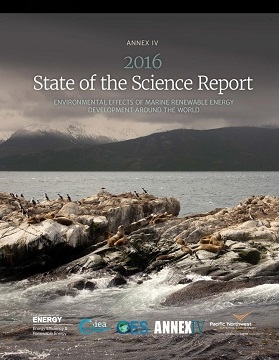 Topics addressed in the State of the Science report include:
TETHYS DATABASE
The Tethys database, named after the Greek titaness of the ocean, is a multimedia database that houses environmental research and monitoring information, as well as an interactive map.
If you would like to contribute by submitting a project site or research study metadata form, please visit Tethys website.
THETYS STORIES
Tethys Stories are intended to feature information on news, events, research, and projects relevant to marine energy development activities across the globe. Stories are contributed by a diversity of individuals working in the field, and are meant to highlight the big picture of advancing the marine energy industry in an environmentally responsible manner.
CONFERENCES, WORKSHOPS AND WEBINARS
Dissemination of information is presented at various conferences and workshops.

Here you can assess the list of past conferences and workshops

Tethys also hosts regular webinars as a means to effectively disseminate new information and research efforts to a large international audience of stakeholders. Anyone is welcome to attend these live webinars and participate in a live question and answer session with the presenters.
You can assess the webinar archive here

You can sign up to receive invitations to new live webinars here
Related links